Baidu CFO Calls for Chinese Women to Lean In
Bloomberg News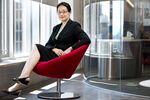 Baidu Inc. Chief Financial Officer Jennifer Li knew she was bucking the trend by quitting an executive job at General Motors Co. and moving her toddler son across the world for a Chinese company less than a 10th the size.
"You've got to have the guts to try anything," Li said of the move she made in 2008 with support from her husband, who stayed in Detroit with their daughter, then age 7. "There's so much to experience in a lifetime that having a child and getting married are only the start of your life."
While China has one of the highest female employment rates thanks to state policies promoting gender equality, Li, 45, is just one of a handful of women in top management there. The CFO wants women to embrace the same risk-taking attitude that led her to end a 14-year career at GM and extend her current role into strategy development to help Baidu, China's largest search engine, catch up in mobile apps.
Her progress will be key. Analysts have identified the mobile-advertisement market, with revenue estimated to rise to $11.4 billion this year, as the growth center of the future as users shift away from desktop computers, Echo He, an analyst at Maxim Group LLC in New York, said by phone. "Baidu hasn't managed to set up a dominant status on mobile search."
About 82 percent of Internet searches on desktops in China used Baidu as of March 31, according to data compiled by Bloomberg. That shrunk from a year earlier, contributing to first-quarter profit missing analyst estimates and a 17 percent stock drop in the past 12 months.
Active Users
Baidu's mobile-search app had 100 million daily active users in April, up 25 percent from the end of 2012, according to an earnings call. That's about 9 percent of the potential pool of users, based on the 1.16 billion wireless subscribers in China as of April, according to data compiled by Bloomberg.
Competition is also intensifying. Alibaba Group Holding Ltd., China's largest e-commerce company, has bought stakes in businesses with heavy exposure on mobile devices, such as Sina Corp.'s Twitter-like Weibo service. Sohu.com Inc., owner of China's third-biggest Web portal, and software company Qihoo 360 Technology Co. also have apps for mobile search.
Maxim Group's He, who rates Baidu sell, said she has yet to see Li's success in mapping out a new game plan as the market shifts. "Jennifer has played more of a supporting function to make sure operations run smoothly and less of a strategy role."
Li has shown foresight in decision-making, according to Wang Xiaodong, a director of business analysis at Baidu.
Looking Ahead
The search operator, which offered $1.5 billion of bonds in November, began planning for that sale more than three years ago at Li's prompting, Wang said. Li realized Baidu would need to expand existing businesses and make acquisitions to continue leading the industry, he said.
The company is working with mobile-phone makers, including Samsung Electronics Co. and Lenovo Group Ltd., to pre-install its search app on their handsets, Li said. To create more value for services, it is open to buying companies that focus on specialized search, such as for online travel.
Once Baidu has identified its needs, "it's a buy versus build decision," Li said, without specifying potential targets. "You need to know your own strengths."
Being focused and aware of her strong points have stood Li in good stead. In her last job before Baidu, as head of the North American operations of GM's financial unit, she was in her 30s while most of her co-workers were older, male and Caucasian.
Professional Behavior
"I was not the same as them on many levels, but I wasn't self-conscious about my background," she said. "In a professional setting, just focus on getting the job done."
Another test came with Li's acceptance of an offer in May 2010 to be an independent director of Philip Morris International Inc. That made her the first Chinese woman to serve on the board of an S&P 500 Index company, and the appointment ran counter to Baidu Chief Executive Officer Robin Li, who is an anti-tobacco campaigner.
CFO Li said she made the decision because she wanted to learn about corporate governance. "It's not so much about the industry, but about the operations, management and governance, which Chinese corporations can learn from," she said.
Women make up 9 percent of members on companies' executive committees, trailing the 14 percent in the U.S., a McKinsey & Co. report in June 2012 showed. About 74 percent of women in China work, compared with 85 percent of men, giving the country a ratio that exceeds the U.S. and is the highest among major Asian economies, according to the World Economic Forum's Global Gender Gap Report 2012.
Social Stigma
CFO Li attributes the small proportion of women in the top rungs of management in China to the social stigma tied to high-flying female executives and a failure to pursue careers after marriage and childbirth.
"There is still the negative concept of a 'nu qiang ren' in China," Li said, referring to the Chinese phrase meaning "super woman." "They're portrayed as man-like, very tough and brutal. I don't know if society really welcomes such an image."
The executive, who has two younger brothers, earned her bachelor's degree from Tsinghua University in Beijing and an MBA from the University of British Columbia in Vancouver. She relocated to Beijing after being approached by Baidu CEO Li, who isn't related. Her husband and daughter remain in the U.S.
"Chinese society still upholds that women should be gentle, kind and humble," Li said. "Also, women are less aggressive, quietly doing all the work but seldom going out of their way to showcase and market themselves."
What helped her buck that trend and take the leap to Baidu was support from her husband, who said he didn't want her to have regrets.
"Men or women, we all have a life that we must live to its full potential," Li said. "If you give up your profession and your goal in life, you are letting yourself down."
Before it's here, it's on the Bloomberg Terminal.
LEARN MORE