Ask the Expert: Will a Foreclosure Shut the Door to Wall Street?
Geoff Gloeckler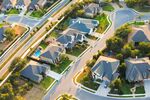 We get a lot of questions from potential business students in our forums, on Twitter, and via e-mail about all kinds of topics, from admissions to career services and everything in between. In the Ask the Expert feature, we take your questions and get them answered by the most qualified individuals we can find.
Today's question, edited for length and clarity, comes from a participant on the B-school forums (where the use of real names is not required) who goes by the screen name Jakora.
Jakora asks:
"My nephew, who is 30 years old, will soon be graduating from NYU with an MBA. He is considering a career on Wall Street. In 2009 he had a foreclosure on a home he owned. This is the only blemish on his credit record. His credit score, even with the foreclosure, is 700. He was recently advised that the foreclosure would keep him from being able to get a job on Wall Street. He was told that all prospective Wall Street or major bank employers would run a credit check on him, and when the foreclosure was found, he would be denied any job. Is this true? Will a foreclosure close the door to entry to Wall Street?"
To answer these questions, we reached out to Victoria Stroz, assistant director of UChicago Careers in Business, a career development program for the University of Chicago's undergraduates. Previously she was an associate investment bank campus recruiter at JPMorgan. Here's her response:
"While investment banks and financial-services firms run background checks on a new hire's previous employment and will confirm Social Security numbers via credit checks, the resulting credit score will not have been reviewed by the recruiter nor will it factor into any employment decision. Typically, third-party vendors are responsible for confirming Social Security numbers, which are verified through credit checks. Once the Social Security number is verified, the recruiter is only made aware that the number is valid. If the new hire does not have a credit score, then the Social Security number will be verified with a physical Social Security card.
"Otherwise, the only information analyzed during the background check is the new hire's previous employment. A third-party vendor typically conducts the initial search into each previous organization listed on the new hire's résumé, and where any discrepancies are found the vendor will contact the recruiter. The recruiter is then responsible for thoroughly investigating any discrepancies and confirming the hire's previous employment. If any previous employment is falsified, the hire is typically terminated before the start date."
Have a question for a B-school expert? Post it in our forums or tweet it to us with the hashtag #bschoolexpert, and we'll get it answered for you.
Before it's here, it's on the Bloomberg Terminal.
LEARN MORE