A Movie Producer's Advice for Throwing Away Money: "Buy a Baseball Team"
by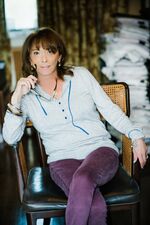 When Lynda Obst first moved to Hollywood in 1979, there was only one Superman movie and Meryl Streep had just gotten her first Oscar nomination. Sixteen Streep nominations and countless superhero sequels later, show business has been transformed -- by, among other things, a 30-fold increase in the number of films grossing $100 million or more.

The producer of 16 films including "Sleepless in Seattle," "Contact" and "How to Lose a Guy in 10 Days," Obst came to Los Angeles from New York, where she had been a New York Times editor. She revealed many of Tinseltown's secrets in her 1996 book "Hello, He Lied." This month, she's followed up with "Sleepless in Hollywood: Tales from the New Abnormal in the Movie Business."
The book finds Obst, 63, taking a break from movies and trying her hand at TV, executive producing "Hot in Cleveland" with Betty White and its spinoff "The Soul Man" with Cedric the Entertainer.
Bloomberg.com's Ben Steverman asked Obst how, after three decades, one stays on top of an industry as fast-moving, youth-obsessed and cutthroat as entertainment. Edited excerpts of her answers follow:
How do you stay relevant in a rapidly changing industry?
Obst: Staying fresh in a rapidly changing industry is not easy, but it's made easier for me by having a son half my age who is my sounding board. He has always told me when I was off base. [His comment that] "making a movie because it's good is so 2003" stunned me into the research that started this book. Or when he told me when he was a teen that "Scream," which I'd never heard of at the time, was going to open bigger than my George Clooney/Michelle Pfeiffer romantic comedy, "One Fine Day."
Also, I live in a neighborhood of Los Angeles, Silver Lake, which is like Brooklyn. It's crammed with screenwriters and actors half my age who keep me young and try to get me to go out and play at 11 pm when I'm inclined to go to sleep. I keep my old reporter's ear to the ground, and always listen to young people. I try not to be insulated and self-satisfied. Also, doing gymnastics every week helps. If I don't get my backhandspring, I'm worthless.
Do you have any career advice for others on how to keep working (and enjoying your job) in one industry over a long period of time?
The secret to longevity is not giving up. Attrition kills more people than failure. Nora Ephron and I always used say to each other after a movie didn't work that "it's just about getting another swing at the bat." I watch a lot of baseball, and study streaks and slumps; it's a game, and you just have to stay in it. You have to believe you still have good ideas, and not copy the box office. If one thing isn't working, try another.
How do you manage your own personal finances?
My personal finances are not my best asset. Ask my business manager. I don't pay nearly enough attention to them. (But I'm great on a movie budget.)
This is my personal Waterloo. But I am getting better as I get older. Thank god.
I heard Mel Brooks say he never invests in his own projects. Is that good advice?
Never, ever, ever finance your own movies, unless you have a lot of money to throw away. Then buy a baseball team.
What other lessons have you learned?
What I've learned after all these years is to stay flexible. I made romantic comedies for years. Then I found myself hitting my head against the wall. It hurt. So now they're on the back burner. They will come back someday and I will be ready!
The movie business was going too slowly for me. I didn't have a fabulous franchise like Fast and Furious; I made up originals. So I looked around and wondered, "Where can I still invent stories with writers, and do what I do best?" The answer was television.
So, late in my career, I had to be flexible enough to try a new angle -- meet a new set of people, learn new rules.
Before it's here, it's on the Bloomberg Terminal.
LEARN MORE