Treasury Makes the Case for Its Small Business Lending Fund (Again)
by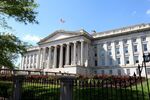 In 2010, President Obama announced a plan to funnel money repaid by bailed-out Wall Street banks to community lenders in hopes of encouraging small business lending. The Treasury says the program, known as the Small Business Lending Fund (SBLF), was responsible for $8.9 billion in loans through the end of 2012. Special Inspector General for the Troubled Asset Relief Program Christy Romero and others have said (pdf) that the program did more to prop up struggling community banks than it did to help small businesses.
The Treasury's "First Annual SBLF Lending Survey," released yesterday, is unlikely to convince critics that the program lived up to its stated purpose—"to encourage Main Street banks and small businesses to work together, help create jobs, and promote economic growth in communities across the nation." Still, each time the Treasury releases data on the program, we get some new nuggets on the state of small business lending.
The tidbits below are pulled from the Treasury's survey of 327 lenders that participated in the program. Bear in mind that it covers the year ended June 30, 2012.
• Forty-six percent of survey respondents reported stronger demand for small business loans, compared with 14 percent that saw weaker demand. The biggest factors driving new demand were investments in plant and equipment and refinancing loans with less favorable terms.
• Loan standards, on the other hand, didn't change at 81 percent of banks in the survey. Fifty-one percent of the institutions charged lower loan rates relative to their cost of capital, and 20 percent offered larger lines of credit. More often than not, banks increased premiums, as well as collateral requirements, on riskier loans.
• According to Treasury estimates, the SBLF led to an additional 22,000 loans in the South, or about 58 percent of loans created by the program. Thirty-seven percent of survey respondents were Southern institutions.
Before it's here, it's on the Bloomberg Terminal.
LEARN MORE