The Viral Positivity of 'Dumb Ways to Die'
How an Australian public service announcement became an Internet sensation
By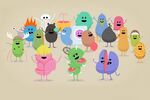 More than 50 million people have now watched the YouTube version of "Dumb Ways to Die," an animated video depicting kidney bean-shaped creatures happily being mauled, electrocuted, murdered, and run over by trains. Since it was produced last November, the video has spawned at least three parody videos that have each been watched over a million times, was recently turned into an iPhone game that is now the seventh most popular free app in Apple's app store, and is being turned into a children's book. This week it has won three awards at the Cannes Lions International Festival of Creativity.

Not bad for a public service announcement intended to keep Australians off train tracks. The animation was conceived as the centerpiece of a campaign by the Melbourne Metro train system to prevent accidents on its commuter rails. It seems to be succeeding in that respect, as well. In the three months after the campaign was launched, the system experienced a 21 percent reduction in accidents and deaths compared to the same period last year. The goal was 10 percent.
There are clear reasons why "Dumb Ways to Die" has been a success. It's catchy and the animation is hilarious. But it has another, less obvious, thing going for it: the power of positivity.
Two researchers from the University of Pennsylvania studied the New York Times most-e-mailed list (PDF) for signs of what made a shareable piece of content, in an attempt to isolate the emotions most associated with sharing.
Sadness was the feeling most likely to stop sharing in its tracks. This put Melbourne Metro at a disadvantage, because people getting killed by trains is sad. But animated characters feeding themselves to carnivorous fish isn't, and you get two minutes of that before there's even a hint of seriousness. Then again, the safety message shoehorned in at the end probably helped the video's viral success, too. Jonah Berger and Katherine Milkman, the authors of the study, found that pieces of content with positive messages were likely to be more popular than those that lacked them.
"Customers often share content for self-presentation purposes or to communicate identity, and consequently, positive content may be shared more because it reflects positively on the sender. Most people would prefer to be known as someone who shares upbeat stories or makes others feel good rather than someone who shares things that makes others sad or upset," they wrote.
"Dumb Ways to Die" is lacking in the emotion most closely associated with sharing: anger. After rage, the emotion most associated with virality was awe, which helps explain why science articles tend to be overrepresented on the New York Times most e-mailed list. You can judge for yourself whether the animation in "Dumb Ways to Die" is awe-inspiring. It's certainly awesome.
Before it's here, it's on the Bloomberg Terminal.
LEARN MORE