France Fights Amazon's Free-Shipping Ways, Aiming for Pricier Books
by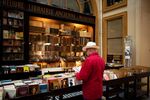 As Apple battles U.S. charges that it illegally drove up the price of e-books, France is trying to ensure that Amazon.com can't push the price of physical books too low.
France's culture minister said Friday that she would introduce legislation to block Amazon from offering free shipping on books already sold at a discount by the online retailer, according to Reuters. France and other European countries have long fixed the price of books to keep bookstores in business. Current laws keep Amazon from offering discounts on books that exceed 5 percent of the sale price as set by the publisher. But even that seems not enough. Last year, the country's culture ministry also suggested other forms of aid for bookstores, with help from both publishers and the government. One such policy: limiting rent increases on bookstores, according to the New York Times.
"Amazon's behavior, and the risks it poses for the survival of a whole network of bookstores and the entire chain of book production, are obvious in Britain and in the United States, too," said Aurelie Filippetti, France's minister of culture and communications, who is also a novelist with several books for sale on Amazon.
The company has certainly used its willingness to pick up the price of shipping as a competitive advantage, spending $2.8 billion on shipping last year. But the bigger threat to French bookstores probably lies in products that cost relatively little to move around: e-books. The French haven't taken to digital reading as quickly as Americans—e-books made up only 1.8 percent of the overall French book market in 2011, compared with 6.2 percent in the U.S.—and a survey earlier this year found that more than half of French people claim they'll never read a book on a screen.
Fearing the disruptions of the digital revolution, the French government included e-books in its price-fixing program in 2011. But it's not all upward pressure: France is defying the European Commission by taxing e-books at a lower rate than elsewhere in Europe.
The U.S., meanwhile, is moving in the opposite direction. On Thursday the Department of Justice wrapped up its case against Apple for conspiring with publishers to raise the price of e-books. The waters here are pretty muddy, with some debate about whether e-book prices are rising or falling. But the idea that something would stand in the way of lower prices just seems un-American. Perhaps the most dramatic moment in the court case came when a government lawyer challenged an Apple executive by asking him whether the company's customers thanked him for raising prices.
French politicians apparently have the answer to that: Mais oui!
Before it's here, it's on the Bloomberg Terminal.
LEARN MORE