Can Zombies and a Small Popcorn Sell $50 Movie Tickets?
By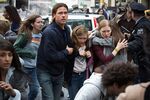 In an era when almost everybody complains about out-of-control movie ticket prices, it seems odd to introduce an option costing $50. But that's exactly what happened last week as Paramount Pictures and Regal Cinemas unveiled a "Mega-Ticket" for the new Brad Pitt zombie flick World War Z, which opens today. To be fair, you get more than just a movie. The package includes an early screening at one of five participating theaters in L.A., Houston, San Diego, Atlanta, and Philadelphia, plus a small popcorn, a pair of World War Z collectible 3D glasses, a movie poster, and a digital download when the film becomes available on home video.
Is it a bargain? Maybe. 3D movie tickets average around $16, digital downloads go for about $20 on iTunes, and small popcorns sell for $5 or so. Everything else is in the eye of the beholder. Of course, the Mega-Ticket only admits one. If you want to bring a date or the kids, you would be shelling out a hundred bucks or more.
To more cynical observers, the last-minute announcement of a jacked-up price seemed to reek of desperation. For a while, the Brad Pitt vehicle has seemed like a vulnerable contender in a very crowded summer marketplace. The production was saddled with huge cost overruns, last-minute rewrites, and an ending that was reshot. Some have put the final price tag north of $400 million. It's going up against the second weekend of Man of Steel, which just set a record for the biggest June opening with $113 million over three days. Plus, World War Z is not an established franchise, and Pitt is not regarded as a can't-miss box-office property. (His biggest hits are still Mr. and Mrs. Smith, where he shared top billing with future mate Angelina Jolie, and the Ocean's movies, where he shared it with George Clooney and Matt Damon.)
Of course, this attempt to get some paying viewers in early isn't anything new. Just last week, Walmart sold exclusive tickets to early screenings of Man of Steel, leading to an impressive advance box-office haul of $12 million. But that was for 2,379 screens, which makes the World War Z deal seem even odder. If Mega-Tickets are sold for just five theaters, and if each theater seats around 500 people, full houses would yield about $125,000 in total (though the tally could rise if theaters devoted multiple screens).
Look closer, however, and you might see an early experiment in the future of moviegoing. The idea that movies will eventually become a more specialized, expensive experience has continued to gain currency in Hollywood. News of the Mega-Ticket coincided with a highly publicized appearance by Steven Spielberg and George Lucas at the University of Southern California, where the filmmakers predicted a future where "going to the movies will cost 50 bucks or 100 or 150 bucks, like what Broadway costs today, or a football game," according to a report in Variety. But the veteran directors (and box-office champs) also warned of an "implosion" in a film industry where movies with gigantic budgets have made the stakes of failure much higher. Spielberg predicted "a big meltdown where three or four, maybe even half a dozen of these mega-budgeted movies are going to go crashing into the ground."
World War Z, with its enormous price tag, is trying very hard not to be one of those movies. And what Paramount is looking for with the Mega-Ticket deal might be something more basic. Recent industry and media screenings of the zombie blockbuster have revealed a film that, for all its bad buzz, may be much more effective than anticipated. So why not get it in front of a few thousand paying fans who are likely to enjoy the experience even more? Whatever the value of branded 3D glasses, rest assured that good buzz, to a movie studio, is worth even more.
Before it's here, it's on the Bloomberg Terminal.
LEARN MORE