Replacing Bernanke: Nine Top Contenders for the Next Fed Chair
By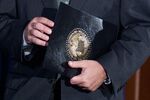 A year from now, the chairmanship of the Federal Reserve may very well be occupied by the first woman chief in the Fed's century of existence. Or the first black man. Or a former president of Harvard University. Or an ex-treasury secretary. Or an Israeli-American who was born in Zambia. Or an economist from St. Louis. Or maybe even the person who has the job now, Ben Bernanke, even though President Barack Obama told Charlie Rose this week that Bernanke has been there "a lot longer than he wanted or he was supposed to."
It would be foolhardy to place odds on who's going to occupy the chairman's office at 20th Street and Constitution Avenue in Washington, D.C. But here are thumbnail sketches of some of the people whose names crop up most often.
JANET YELLEN: The current vice chair, Yellen is considered the most likely person to be nominated for chairman when Bernanke's second four-year term expires at the end of January 2014. She's a dove, meaning she's more worried about unemployment than inflation. She played a crucial role in making the Fed's decision-making more transparent. (Those press conferences were partly her idea.) Yellen taught economics for years at the University of California at Berkeley. Her academic specialty is unemployment and how to fight it. She served President Bill Clinton as chair of his Council of Economic Advisers. Yellen was raised in Brooklyn and is married to Economics Nobel laureate George Akerlof.

BEN BERNANKE: You can't rule out the incumbent. If Bernanke wants a third term, Obama would have a hard time telling him no. But eight years of running the world's most powerful central bank—including dealing with the worst financial and economic crisis since the Great Depression—may be enough excitement for Bernanke. The former Princeton University economist could credibly declare that he managed to help get the economy back on the path toward full employment. On the other hand, it must be kind of fun watching the markets tremble with every syllable that comes out of your mouth.

TIM GEITHNER: No question that Geithner, the former U.S. treasury secretary, has strong international experience and an insider's understanding of Washington. He was president of the New York Fed—the most powerful of the 12 regional reserve banks—from 2003 to 2009. And crucially, Obama appears to trust him. Geithner doesn't have strong academic training in economics, but that's not a prerequisite for the job; G. William Miller was chairman of Textron before being named to head the Fed by Jimmy Carter in 1978. (Granted, Miller presided over runaway inflation.) The biggest sticking point: Geithner doesn't seem to want the job.

ROGER FERGUSON: If Ferguson gets the nod from Obama, the U.S. will have black men in the two most powerful jobs in government. Ferguson is president and chief executive of TIAA-CREF, the teachers' retirement system. He was vice chair of the Fed from 1999 to 2006. He serves as president of the Economic Club of New York, a plum position. He has a PhD in economics from Harvard University. He has also worked as an attorney and a partner at McKinsey. By chance, Ferguson was the only Fed governor in Washington at the time of the September 11 attacks in 2001. Greenspan gave Bloomberg News a statement saying, "Roger was the major policymaker during the crisis of 9/11."

LARRY SUMMERS: He's smart and tough, with strong academic credentials. Summers served as U.S. treasury secretary in the Clinton administration and as head of Obama's National Economic Council. He can be abrasive, though, a problem in a consensus-building position. He resigned as president of Harvard University in 2006 after faculty found him arrogant and divisive. Nevertheless, the Financial Times's Edward Luce, who used to work for Summers, predicts Summers will get the nod. "Charm is overrated," Luce writes.

STANLEY FISCHER: He shepherded Israel's economy through the global financial crisis masterfully. Now Fischer is stepping down as president of the Bank of Israel. At 69, he says he's not ready to retire. Fischer was born in Zambia and became a U.S. citizen before moving to Israel and obtaining citizenship there. He was a mentor to Bernanke when the two were at the Massachusetts Institute of Technology. Asked by Bloomberg Television if he was interested in the Fed chairmanship, he said, "There is one mistake you must never make—do not accept an offer that hasn't been made to you."

WILLIAM DUDLEY: As president of the Federal Reserve Bank of New York, Dudley is either the second or third most powerful person in the Fed system (after Bernanke and perhaps Yellen). The New York Fed has powers that the 11 other regional banks lack. It carries out the Fed's monetary policy by buying and selling securities. It has a permanent seat on the FOMC. And Dudley is the main liaison between the Fed and the domestic and foreign financial markets. Before joining the New York Fed in 2007, Dudley was a partner at Goldman Sachs. He was Goldman's chief U.S. economist for a decade.

DONALD KOHN: He's the ultimate Fed insider, having spent 40 years in the system and ascending to the vice chairmanship before retiring in 2010. Kohn was a trusted adviser to both Bernanke and his predecessor as chairman, Alan Greenspan. More recently he was named to the advisory committee of the Treasury's new Office of Financial Research. He's perched at the Brookings Institution as a senior fellow of economic studies. His age, 70, is a potential obstacle. Also, he's perceived as more of an able assistant than a leader.

JAMES BULLARD: Though not widely mentioned as a candidate, the president of the Federal Reserve Bank of St. Louis would be an intriguing choice. He calls himself "the North Pole of inflation hawks," but he's not an automatic hawk. In fact, right now he thinks the Fed isn't doing enough to make inflation higher. On June 19 he dissented from the statement of the Federal Open Market Committee because he felt it "should signal more strongly its willingness to defend its inflation goal in light of recent low inflation readings."
Before it's here, it's on the Bloomberg Terminal.
LEARN MORE