pursuits
Maybe He's Born With It? Tom Ford Launches Men's Beauty Line
By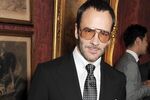 Welcome to the modern era of men's makeup, which no longer involves wailing guitars, shredded denim, or ear-splitting high-C notes.
This week designer Tom Ford revealed that Tom Ford for Men, a line of male-targeted beauty products—including bronzing gel, concealer, and a purifying mud mask—will be available this fall. The new launch follows the success of the designer's debut cosmetics line for women, which was released in 2011. Tom Ford for Men will join a marketplace that includes Marc Jacobs's "unisex" beauty products, including a Remedy Concealer Pen, Brow Tamer Grooming Gell, and Moisture Balm.
Tom Ford has spoken of his affinity for men's beauty products in the past. "I was never drawn to walking in women's shoes," he in an interview with U.K.'s Telegraph in 2011. "But makeup? That I'm serious about." And there's plenty of evidence to suggest that his push into concealer for men will pay off. According to the firm Euromonitor International, American men spent $5 billion on grooming products last year, a $2.6 billion increase from 1997.
Fashion-forward gents aren't the only men embracing cosmetics. The mixed-martial arts crowd, including star Chuck Liddell, has helped popularize the use of men's nail polish, which they use on their fight-worn fingernails. And manicures have become more commonplace on Wall Street. According to high-end grooming club owner John Allen, "Today, I think men understand it's just good grooming."
But Tom Ford for Men will likely be far more upscale than most products men are used to. If the prices of his women's cosmetics are any indication, men who truly care about their appearance can expect to pay upwards of $80 for a concealer. And, presumably, they will know how to use it.
Before it's here, it's on the Bloomberg Terminal.
LEARN MORE