Hidden Hand: Todd Grams, the IRS's New Mr. Cleanup
By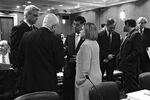 Todd Grams has spent 33 years trying to clean up government messes. He's worked at the U.S. Census Bureau, the Department of Commerce, and the Office of Management and Budget, building a reputation as a fixer. As chief financial officer of the troubled Department of Veterans Affairs, he oversaw its $140 billion budget. Grams left that post in June when he was tapped by Danny Werfel, the acting commissioner of the IRS, to help turn around the agency.
President Obama appointed Werfel in May after revelations that the IRS had subjected Tea Party organizations to tougher scrutiny than other political groups. As Werfel's chief of staff, Grams controls the flow of people and paper to his boss and preps him for all-important congressional testimony. Perhaps most valuable of all to Werfel: Grams knows the nooks and crannies of the IRS well. In the early 2000s, as its chief information officer and CFO, he was in charge of getting its financial records in order and modernizing its balky computer systems, issues the Government Accountability Office had complained about for years. Kevin Brown, a former IRS chief of staff and acting commissioner, describes Grams as approachable: "He's nice and effective, extremely effective."
Before it's here, it's on the Bloomberg Terminal.
LEARN MORE