For MBA Job Seekers, the Importance of Being Thankful
Francesca Di Meglio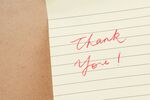 Proper etiquette never goes out of style, and it can help MBA students and alumni stand out when networking and looking for a job. Most full-time MBA students are beginning their summer internships now, and experts say good manners can help them secure an offer of employment.
A simple and short thank-you note is the perfect way to follow up with a recruiter or supervisor, says Keith Bevans, global head of consultant recruiting at Bain & Co. "Anything you and the recruiter can do to continue the relationship beyond the 45 minutes you've spent together should be a priority for both of you," he says.
Here are tips for properly thanking recruiters, potential employers, managers for whom you've interned, and anyone with whom you are networking:
Say the words
For starters, MBA students should thank people who meet with them at the end of the encounter, says Rebecca Cook, director of coaching and development in Graduate Career Services at Indiana University's Kelley School of Business. They can say, "Thanks for your time. I appreciated it." If they are interested in working for this company, they should tell the interviewer that at the end of the meeting, too. Some students think this can hurt their ability to negotiate, but most career services directors say that is not true.
Send an e-mail
Recruiters often frown on job candidates who do not follow up with a thank you, so sending an e-mail within 24 hours of meeting with a recruiter is a necessity, says Cook. Snail mail, she adds, may take too long to arrive. The e-mail should be short and to the point, because most people are inundated with e-mails and messages throughout the day. Keeping it brief shows you respect the person's schedule. Again, express gratitude for the recruiter's time and refer to something from your conversation that will remind the reader of who you are.
Write an old-fashioned card
Handwritten notes are so rare these days that they can really help a job candidate stand out. The career center at Georgia Institute of Technology's Scheller College of Business leaves notecards out for students to write messages to recruiters. Advisers suggest they send an e-mail in which they mention that a note will be arriving via snail mail, too.
In fact, Cook recommends students send written notes when they're really interested in the job. In addition to hitting on points that came up in your meeting, you should also make it clear why you are interested in the position, describe your passion for the company, and explain why you are a good fit for the culture. Use professional stationary; your school's letterhead or something simple with your name will suffice.
Avoid obvious mistakes
If you met with multiple people at the same company, do not send them all the same card. People share, warns Cook, and it could work against you. Say thank you or send an e-mail even if you decided the job isn't for you, because you should still be grateful for the person's willingness to meet with you. And triple-check the grammar and spelling of any written correspondence. Be especially careful about spelling people's names correctly, she warns. "It has to be perfect," says Cook. "Or it can kill you."
Join the discussion on the Bloomberg Businessweek Business School Forum, visit us on Facebook, and follow @BWbschools on Twitter.
Before it's here, it's on the Bloomberg Terminal.
LEARN MORE