Risking Pastry Sales, Starbucks Expands Menu Calorie Counts Nationwide
By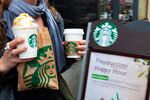 Once upon a time, there was no more blissful a snack at Starbucks than a slice of frosted pound cake. But by 2008, the chain started listing calorie counts in New York City, which exposed the benign little sliver of lemony goodness as an explosive blast of 500 calories—200 calories more than some fast-food cheeseburgers. Even some of the healthier alternatives were calorie-packed: The cheese and fruit box rang up 480 calories.
On June 25, Starbucks will start listing calorie counts on menus nationwide. And if the chain's New York branches offer any indication about how the rest of America will react, customers' should expect a change in their daily ordering habits.
A 2011 study by Stanford's Graduate School of Business found that calorie-posting in New York's Starbucks led to an overall reduction in calories per transaction—from 247 calories to 232 calories. The average calories from food transactions plunged 14 percent. Of that, about three-fourths were attributed to customers buying fewer items, and one-fourth was due to people buying lower-calorie items. (Drink orders, on the other hand, were largely unaffected.)
If Americans are as concerned about food calories as the study shows, the coming change could endanger sales of some calorie-heavy items on Starbucks' menu, including:
• Iced Lemon Pound Cake: 500 calories
• Sausage & Cheddar Classic Breakfast Sandwich: 500 calories
• Egg Salad Sandwich: 500 calories
• Zucchini Walnut Muffin: 490 calories
• Cranberry Orange Scone: 490 calories
• Banana Walnut Bread: 490 calories
• Cheese & Fruit Bistro Box: 480 calories
"It is about personal choice, and customers are trying new things," says Starbucks spokeswoman Lisa Passe, noting that the chain's oatmeal and petite cakes and scones remain great sellers. "It is about transparency, not solving obesity through menu labeling. People can better understand what's right for them." She adds that some new items from La Boulange, the bakery Starbucks acquired last year, will be lower in calories.