Retailers: Embrace the Smartphone-Browsing Consumer
Stephen George and Michael Murphy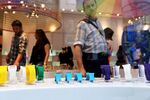 A lot has been written lately about showrooming, the practice of going to a retail store to see a product, only to purchase it online. Some data suggest the trend spells doom for the largest and best-known retailers, while others dismiss it as a myth.
The fact is that smartphone-toting consumers are walking into retail stores, snapping shots of shelf tags, reading reviews, and finding the best price long before a salesperson even notices them. This behavior alters the role of the retail space and changes the economics of big-box retail and independents alike.
Why is this happening? The stock answer is price. But if price were the whole story, people wouldn't bother going to the mall, opting instead to shop online.
The real answer is that consumers are seeking an enhanced shopping experience—service, information, assortment, even entertainment. They're using the sophisticated tools at their disposal to meet their heightened expectations. Where and when they buy become a function of how these fundamentals come together.
What are the implications for the "store of the future," and what are the opportunities for innovation among existing retailers and entrepreneurs?
Rethink Space Allocation
Consumers still flock to big-box retailers for the largest selection. But keeping those shelves stocked requires lots of inventory and backroom storage. With real estate at a premium, retailers will devote more space to the most critical function of retail: display. Excess inventory will diminish, with fulfillment done online via dedicated fulfillment centers. Wal-Mart is already piloting a program called Endless Aisle, where customers can scan an item in-store with a smartphone and order it online.
Create Immersive, Entertaining Features
Smart retailers won't fight showrooming. Instead, they'll offer carefully controlled online information combined with engaging store experiences to help stimulate immediate excitement and purchase. Lowe's claims its new, more showroom-like end-cap displays are a key to driving up margins and in-store conversion rates. They combine interactive video, QR code links, and thin assortments to generate high interest in specific products.
Create the Brand Experience Bazaar
Department stores have always been adept at creating branded mini-shops and kiosks from the likes of Ralph Lauren and Martha Stewart. This style of shopping is closer to the traditional bazaar or farmer's market experience and encourages browsing, conversation, and discovery. It's the antithesis of the mass retail experience.
That is, until now. Samsung Electronics launched the Samsung Experience Shop inside Best Buy stores and will roll out the concept to 1,400 locations later this summer. These single-brand experiences derive higher trade allowances for the retailer while allowing brands to leverage their feature/price segmentation strengths.
Enable Hybrid Shopper Experiences
Personalization is a hallmark of superior customer service. The key is flexibility—offering consumers a choice of engagement methods with an eye to digital integration. In department stores, cosmetics leader Estée Lauder is allowing customers to browse independently in addition to full consultation. Research suggests that younger consumers, who often begin shopping online, appreciate having the convenience of an express lane for purchase at retail.
We'll see more of these hybrid approaches, where both browsing and fully customized service are encouraged (think Apple stores). This will require more than a tiered approach to sales floor staffing. The sales floor itself must change, creating layouts and systems that allow both self-service shopping/checkout and concierge-class purchasing.
For shoppers, the showrooming behavior represents something far more than just seeking the lowest price. They're solving for an unmet need—a better retail experience and mobile devices are raising the bar. Successful retailers will leverage the legacy benefits of their physical locations and develop innovative technologies and store concepts for increased engagement. Entrepreneurs, free from the legacy costs of traditional retail, might start rethinking the nature of shopping, collaborating with companies such as Amazon to create new showroom and fulfillment business models that delight shoppers and create the future of retailing.
Before it's here, it's on the Bloomberg Terminal.
LEARN MORE