MakerBot Sells Out to 3D Printing's Old Guard for $403 Million
by and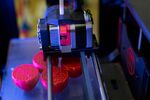 The 3D printing industry turned downright frothy Wednesday as Stratasys agreed to acquire the startup MakerBot for about $403 million. Founded in 1989, Stratasys is a 3D printing veteran used to selling large machines to industrial customers. Based in Brooklyn, MakerBot has operated on the opposite end of the spectrum, making $2,000 or so machines that can sit on a designer or consumer's desk and print three-dimensional objects out of plastic using techniques not all that dissimilar from traditional inkjet printers.
This deal will be sure to irk some 3D printing enthusiasts, some of whom will doubtless see it as selling out to a larger, slower-moving incumbent.
Stratasys needed to act. It has mostly continued to focus on selling commercial machines even as the consumer end of the 3D printing business has taken off. Its main rival, 3D Systems, also an old-line commercial player, has acquired dozens of consumer 3D printing startups, ranging from hardware companies to design firms to software makers. For a while, it had looked as if Stratasys was willing to cede the consumer world to its rival, but no longer. "Stratasys had a MakerBot-size hole in its product line," says Jennifer Howard, a spokesperson for MakerBot.
The $403 million price tag comes via a stock-for-stock transaction. The value of the deal will vary based on performance incentives, with MakerBot being eligible for another $201 million if it hits certain targets. MakerBot's investors include Foundry Group and Bezos Expeditions, the venture arm of Amazon.com's founder and chief executive, Jeff Bezos.
The 3D printing industry has been consolidating as interest in the technology heats up. Stratasys acquired Objet, one of its main rivals, last year, while 3D Systems bought its rival Z Corp. The purchase of MakerBot could be seen as a lost opportunity for Hewlett-Packard, which many people in the 3D printing business have expected to enter the market, given its printing chops.
MakerBot will continue to operate independently. The company has been something of a grassroots player, getting its start on the back of open-source hardware designs and software. The company's CEO and co-founder, Bre Pettis, has also served as the charismatic voice, more or less, of the 3D printing movement.
The future of 3D printing holds a special spot in the imagination of the nerds. The technology is regularly heralded as the vanguard of the next industrial revolution, which will lead to a radically democratic world of manufacturing with a 3D printer in every home office, churning out consumer goods, food, and guns. The reality of today's industry is a bit more modest. Much of the consumer-level 3D printing has been focused on producing small plastic trinkets, though MakerBot describes most of its customers as "prosumers" and counts NASA, General Electric, and Lockheed Martin as its largest customers.
"We're really a great prototyping machine," says Howard.
Before it's here, it's on the Bloomberg Terminal.
LEARN MORE