pursuits
For NBA Fans and Executives, Game 6 Was Very Exciting
By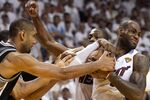 Game 6 of the NBA Finals last night between the Miami Heat and San Antonio Spurs was about as thrilling and unpredictable as basketball gets. At one point, Heat guard Mike Miller stroked a three while wearing one shoe. Later, Heat fans who streamed out of American Airlines Arena when the home team was down five points with 28 seconds left tried to get back inside as the game went into overtime.
It's generally a good sign when customers, however horrible and drunk, are banging on the doors. Ticket prices for Thursday's Game 7 shot up 20 percent overnight to an average of $1,044, with a sixfold increase in transaction volume, says Will Flaherty of ticket aggregator SeatGeek. (Fans who bought tickets for Game 7 after Game 3, when the Spurs torched the Heat, paid an average of just $679.) Flaherty says tickets for this year's final game will be the most expensive since Game 7 of the 2010 finals between the Los Angeles Lakers and Boston Celtics (average cost: $1,165).
Best of all for the NBA, the game scored a 14.7 overnight rating, according to Nielsen, the fourth-highest ever for an NBA game on ABC. Throughout this year's playoffs, there has been much hand wringing about the small market teams dampening national appeal.
The league could hardly ask for better advertising than last night's game. Somewhere Commissioner David Stern is smiling and making a note to his successor, Adam Silver: Mention last night when you negotiate the new TV contracts.
Before it's here, it's on the Bloomberg Terminal.
LEARN MORE