Debating Bitcoin: Will the Cryptocurrency's Merits Be Its Undoing?
by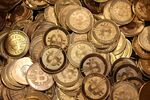 When it comes to the merits of Bitcoin, even the tech community is still on the fence. Coming into a debate about the decentralized digital currency at Bloomberg's Next Big Thing Summit on Tuesday, an audience poll found 60 percent of attendees predicted the virtual currency—priced at $105 during the session—wouldn't be worth $500 in five years. By the time Ribbit Capital founder Micky Malka and Jim Rickards of Tangent Capital were done speaking 25 minutes later, however, about the same percentage felt that Bitcoin would exceed $500 in that time.
On the pro side was Malka, a longtime fan of the cryptocurrency and a venture capitalist focused on disrupting the financial-services space. Playing the skeptic: Rickards, who wrote Currency Wars: The Making of the Next Global Crisis. While Rickards appealed to logic by arguing that Bitcoin doesn't offer the stability or safety of a central bank-backed currency, Malka effectively compared it to other units of value that can be transferred between peers, such as frequent-flier points. But the debate, adeptly moderated by SurveyMonkey Chief Executive Officer Dave Goldberg, also showed why Bitcoin's merits—anonymity, decentralization, lack of regulation—could be its downfall. The reason: government intervention.
Although Bitcoin's frothy ecosystem may be relatively small, its undeniable value to criminals has put it high on the agenda of regulators. Drug dealers, sex traffickers, and thieves are constantly seeking methods of payment that allow them to pocket their illicit proceeds in peace. That's why Manhattan U.S. Attorney Preet Bharara recently shut down Liberty Reserve and charged the online exchange's founders with operating a laundering service for more than $6 billion in criminal proceeds. In other words, as Bharara put it, "a black market bank."
While Bitcoin hasn't yet earned that level of rhetoric, it has the same ability to mask transactions. And Rickards pointed to another potential trouble spot: taxes. Anyone who buys Bitcoin at $100 and uses it to buy $110 worth of goods is technically supposed to report that $10 in gains to the government. It's a safe bet that few, if any, Bitcoin users do. Why bother, when both buyer and seller are anonymous? Even Bitcoin's creator, who operates under the pseudonym Satoshi Nakamoto, remains unknown. With Bitcoin values producing wild gains and losses for its users, that has caught the attention of tax authorities, too.
For most, the debate remains a cerebral one. When asked who owned the currency itself, only a few hands in the audience went up. Even Goldberg, though officially neutral, reiterated concerns about deflation in a market where most of the users are betting on its value to rapidly rise.
So why did some skeptics switch sides? Look to the debaters themselves. While Rickards focused on tactical issues like legal blowback and regulatory issues, Malka looked at what Bitcoin could be. As he pointed out, the derision now being piled on Bitcoin echoes the warnings about cyberspace back in 1992. Two decades later, we've learned to love the Internet and deal with risks like child pornography—in large part by having the tools to track offenders. Whether Bitcoin can survive without user anonymity is open to debate, but it's hard not to be drawn to the vision of what it can be.
Before it's here, it's on the Bloomberg Terminal.
LEARN MORE