business
College Business Majors Top the Underemployed List
Elizabeth Rowe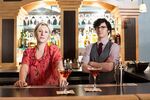 Did you graduate from an undergraduate business program only to find yourself waiting tables and living at home with your parents? PayScale, which collects and analyzes salary information from survey respondents, says you're not alone.
After analyzing data collected from several million survey respondents, PayScale found that students who earned a bachelor's degree (and nothing beyond that) in business administration and management top the list of the 10 most underemployed majors. These graduates are 8.2 times more likely to be underemployed than the average college graduate. Majors that are least likely to be underemployed include engineering, computer science, and statistics.
For the purposes of this study, underemployment refers to workers with a bachelor's degree (but nothing higher) working in jobs that require an associate's degree or less. PayScale used the Bureau of Labor Statistics' designation of job zones, with zones one, two, and three referring to positions that do not require a bachelor's degree. College graduates with jobs in these zones were considered underemployed.
It's important to note that Payscale chose the 10 college majors featured on its list from a longer list of 25 college majors. Less common majors were eliminated, so while fashion design majors, dance majors, and hotel management and tourism majors have higher underemployment figures than business administration and management, they weren't included on the list because of their relative scarcity in the workforce.
PayScale found that respondents with a bachelor's degree in business administration and management are likely to find themselves working as retail store assistant managers, credit or collections managers, and waiters and waitresses. The salaries those positions earn are not the stuff of hedge fund dreams. Those retail jobs, for all majors, pay a median starting salary of $32,400. And the waiters? Just $22,800.
"The business world is saturated with recent graduates, many of whom are trying to get their loafers in the door," PayScale says, "and there just aren't enough cubicles to go around."
Join the discussion on the Bloomberg Businessweek Business School Forum, visit us on Facebook, and follow @BWbschools on Twitter.
Before it's here, it's on the Bloomberg Terminal.
LEARN MORE