Why Yahoo! Partnered With the 49ers' New Levi's Stadium
The web portal wants 49ers fans to stay and play
by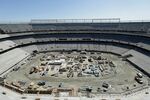 Yesterday, Yahoo! joined the parade of companies attaching themselves to the San Francisco 49ers' new stadium in Santa Clara, Calif.—or "Levi's Stadium," as the local denim company would prefer it to be called. While Levi's is paying $220 million to rivet its name to the stadium for 20 years (an unorthodox move for a clothing brand), Yahoo won't say what it's paying to be "the exclusive online sports content, social networking, and photo and video sharing partner" for the venue. The deal puts Yahoo's name on the stadium's "fantasy football lounge" and installs Flickr-branded photo-sharing booths in the concourses.
If this type of corporate partnership sounds like a first in the sports world, that's because it is. "It is unique to have a web portal become a founding partner of a sports stadium," writes Jim Andrews, senior vice president of content strategy at sponsorship consultant IEG, which counts the 49ers as a customer. Thanks to its close proximity to Silicon Valley, Levi's Stadium has emerged as a tricked-out showroom for the nearby tech companies. Yahoo joins SAP (SAP), NRG Energy (NRG), Brocade (BRCD), and Violin Memory in teaming with the venue.
"It's a smart move for Yahoo to try to capture some 49ers-ness," say Allen Adamson, managing director at the branding firm Landor Associates. Smart not because it gets their name on a lounge, but because they're hoping to drive football fans online, presumably to share game-day photos and interact with each other. "I don't think Yahoo's problem is awareness. People know who they are," says Adamson. "Their challenge is getting people to spend more time on their site."
Yahoo does very well in sports, consistently drawing more than 50 million visitors per month, more than any other Web portal. Fantasy players drive much of this traffic. "Consumers who are into fantasy sports," says Adamson, "are really into it. They are very intense." And attracting and keeping these maniacs is the goal. The company's press release is vague on just what content Yahoo might get from the 49ers. But that content—photos, videos, interviews—is where the value is. (The company declined to disclose the financial terms of the deal or to go into greater detail about what content it includes.)
Ultimately the deal is a trial balloon for the portal business, says Adamson. "This is a precursor of things to come. Online brands are struggling to create new ways to engage their users," he says, "If it doesn't work in San Francisco, it's not going to work anywhere."
Before it's here, it's on the Bloomberg Terminal.
LEARN MORE