Why Less Fed Stimulus Is Actually Good for the Stock Market
By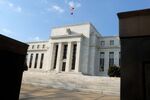 Volatility and hand-wringing over the Federal Reserve's possible tapering plans obscures the fact that equities actually rise when the central bank dials back stimulus. Bloomberg's Whitney Kisling writes that the Standard & Poor's 500-stock index gained an average of 16 percent over two years the last four times the Fed started raising interest rates.
The traditional interpretation is that a less-generous Fed is bad for equities. After all, rising interest rates compete with risk assets, which have been beneficiaries of the bond purchases that pumped Fed funds into the financial system during the tepid economic recovery. Banks have loaded up on fixed-income securities whose value could get hit by higher rates, which also curtail mortgage activity. A report released Monday by TrendMacrolytics noted:
Either the Fed is attempting to discipline the market from over-reliance on the "Bernanke put," or perhaps the Fed is only ratifying the global back-up in government yields underway for the better part of a year, driven by the diminution of systemic threats that was the true purpose of QE3 in the first place. Taper or no taper, yields will likely drift higher, putting pressure on equity risk premia that have already mean-reverted around the world.
Investors have been trying to price in these risks. Swings in prices have increased since May 22, when Fed Chairman Ben Bernanke suggested the central bank could begin to reduce, or taper, its $85 billion in monthly mortgage bond and Treasuries purchases. The value of all U.S. equities has slipped to $19.3 trillion, from $19.8 trillion at the peak four weeks ago, according to data compiled by Bloomberg. Global market capitalization is now at $55 trillion, compared with $58 trillion. Mutual fund investors pulled $5.4 billion from U.S. stock funds in May, according to the Investment Company Institute.
But a confluence of reduced Fed stimulus and a rising market could also signal that the economy is in expansion. The Fed, after all, would have to feel confident enough in the economy's health to make money more expensive—assuming, of course, that it gets the timing right after nearly five years of emergency monetary policy. "The Fed tightening, that's good for stocks," remarked John Canally, investment strategist at LPL Financial, in Kisling's article. "You have to remember why they're doing this, because they think the economy is in a self- sustaining phase, which ultimately is good for profits, which is good for stocks."
U.S. gross domestic product has gained an average of 3.8 percent in years when the Fed began tightening, compared with 2.8 percent annually since 1971. "The S&P 500," calculated Kisling, "gained 10 percent over two years starting in 1983 and 7.4 percent in 1987 after the Fed reversed policy. It jumped 35 percent between February 1994 and February 1996 and 11 percent two years after the Fed started raising rates in June 2004."
In the first six months of 2009, the yield on the 10-year Treasury moved up from 2.05 percent to 3.95 percent. Yields spiked again in late 2010 and early 2011, rising to 3.74 percent from 2.38 percent. Since its March 2009 low, the S&P 500 is up 140 percent, with more than $11 trillion added to U.S. equity capitalization. Shares whose earnings are most tied to economic growth have led this quarter's gains.
"A return to a healthier economic climate that allows for a normalization of monetary policy should be bullish, not bearish, for risk assets," wrote Janney Montgomery Scott's Mark Luschini in a June 13 note. "At this point, the market would be better served with improved economic activity and higher interest rates than with continued weak growth and ongoing extreme Fed monetary policy."
Before it's here, it's on the Bloomberg Terminal.
LEARN MORE