They're Telling Small Employers Not to Fear Obamacare
By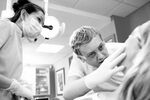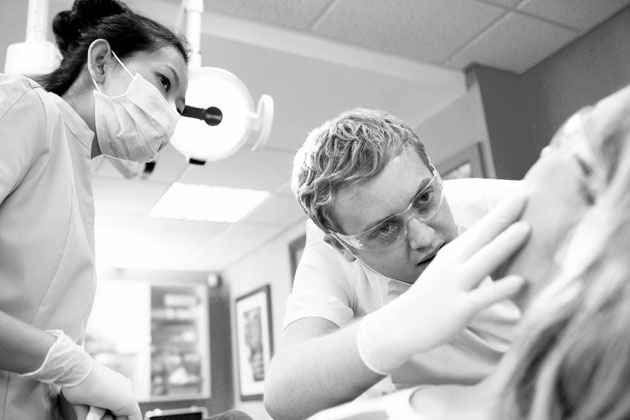 Nevada Communications Officer C.J. Bawden and his 10-person team publicizing the upcoming rollout of the Silver State Insurance Exchange, created under Obamacare, have been busy. Over the last 15 months, they've held hundreds of meetings with thousands of Nevada small business owners, local Chamber of Commerce members, and insurance brokers about how the exchange will work when it launches in October.
Despite their efforts, a March 2013 survey (PDF) of 1,000 Nevada residents showed that 88 percent either thought their state would not have an insurance exchange under the Affordable Care Act or were unsure. Those findings mirror national numbers showing that small employers and the self-employed are confused about Obamacare, many of whose major provisions are scheduled to take effect in 2014.
Bawden, like similar individuals working on their states' Obamacare implementation, is not daunted by the fears and misunderstandings. "We're chipping away at it day by day," he says. Maryland Health Connection, which has a staff of 35, encountered "a lot of misinformation" and "a lot of questions" from small employers, but is optimistic, says Danielle Davis, its director of communications, outreach, and training. (Nevada and Maryland are two of 23 states that will set up health insurance marketplaces themselves, or with the federal government, rather than default to a federally operated exchange.)
"The shock of the initial portion of the law is the scariest thing," says David A. Glucksman, a Calabasas, Calif., accountant who recently set up a meeting with client Ephram Nehme, owner of a three-store chain of wholesale produce markets, and Marcia Davalos, Southern California outreach manager for Small Business Majority, a lobbying group helping to promote Covered California, the state's Obamacare exchange.
Nehme, who does not offer health insurance to the nearly 250 employees of Valley Produce Market, worries that he won't be able to make ends meet once his company is mandated to do so—or face penalties in 2014. His stores operate on slim margins and cater to Middle Eastern and Hispanic shoppers, many of whom are low-income and resistant to price hikes, he says. Preliminary quotes from brokers look as if insurance will cost him close to $800,000 next year, a prospect that terrifies him: "How can I function? Where is this money going to come from? My back is against the wall."
In the meeting, Davalos let Nehme and Glucksman vent their concerns without interruption. She has learned, she says later, that some small business owners need to air their grievances before they can listen to a barrage of information about their options.
Eventually, she explains that the quotes Nehme has gotten are probably high and that under the law, he will not have to pay the full premium for his employees. Also, she notes, it's likely that some of his workers will qualify for expanded coverage under Medi-Cal, the state's Medicaid program, and that others will turn down the insurance because they are already covered through a second job or a spouse.
By the time the meeting wraps up an hour later, Nehme is somewhat reassured. His insurance costs are likely to be closer to $300,000 next year, he says. And he talks about the improved retention and lower training costs he'll face if offering insurance means less employee turnover at his stores.
Sometimes the concerns entrepreneurs have about participating in health insurance exchanges come from the insurance brokers they have worked with for years—many of whom worry they will become irrelevant under Obamacare, Davalos says. Some of the informational panels she has appeared on with brokers have veered into debates: One Orange County, Calif., broker slammed a binder containing the 900-plus page health care law down on the table to illustrate its length and complexity, she recalls, and went on to warn the audience that the law could bring about death panels and micro-chipping.
In Nevada and other states, officials are making efforts to bring insurance brokers on board. "Once we speak with them and show them the information we have, it's nice to see their reactions. We explain that agents and brokers selling insurance will still be able to make their living and they will be able to sell policies that are on the exchanges," Bawden says.
Consultants, tax preparers, and human resources companies have also been working to educate small employers about Obamacare; some of the largest have been hosting conferences and seminars around the topic, according to the Health Insurance Exchange newsletter.
Awareness should improve over the summer, as states and the federal government ramp up campaigns aimed at enrolling as many as 7 million Americans in 2014. Covered California is presently hiring thousands of people to staff call centers and serve as insurance enrollers in advance of its exchange going live on Oct. 1, according to this Los Angeles Times story.
Jon Urbanek, senior vice president of commercial markets for Florida Blue, the state's largest health insurer, says private insurers like his will be jumping on the bandwagon, supplementing government education efforts, he says. "Over the next two or three months, there's going to be so much information coming out that fear of the unknown is going to turn into, 'Oh my gosh, here's all this information and now what am I doing to do about it?'" he says.
Before it's here, it's on the Bloomberg Terminal.
LEARN MORE