The Genetically Modified Burrito: Chipotle Tells All
By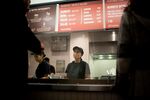 If you're horrified by the prospect of eating food containing genes that were altered by some industrial food giant, Chipotle Mexican Grill will tell you what's what in its ingredients. Just don't expect to be eating much that's on the menu, at least for now. Go with pork carnitas, sour cream, and guacamole. Forget about pretty much everything else: The menu is heavy on genetically modified organisms (GMOs), from the chicken to the tortillas.
Chipotle's chicken, for example, is classified as a "responsibly raised meat" grown humanely and without antibiotics or hormones. In some locations, however, the responsible chicken is cooked in soybean oil, nearly all of which comes from modified soybeans in the U.S.—hence the "G" label on chicken. Similarly, the fajita vegetables are both organic and "local," a designation for any food that's from a farm within 350 miles of the Chipotle outlet that serves it, such as the romaine lettuce and guacamole the chain sells. The veggies, too, are sometimes cooked in soybean oil, depending on location.
The chain began labeling its ingredients in March on its website, including such details as "pasture-raised dairy" for the sour cream and cheeses. There are no plans to post the data on the menu boards in restaurants because of the boards' "limited real estate," Chipotle spokesman Chris Arnold says. The company hasn't noticed any change in sales due to the menu disclosure. "It's not a concern to us that we're going to lose business over this," says Arnold. "If anything, it engenders more trust when you're more forthcoming about the food you serve. Any downside there may be … is going to be eclipsed by the upside with being transparent."
The chain is working to reduce the GMO content of its ingredients but doesn't expect to achieve a 100 percent GMO-free menu, given the nature of the U.S. food industry, Arnold says. "Our food system is so dominated by these big industrial food producers."
To get away from one heavily modified crop, the company is switching from soybean oil to sunflower oil for frying taco shells; the change is expected to be completed by Sept. 1. The chain is also experimenting with rice bran oil in some markets, to reduce the use of soybean oil. Along with the modified organisms, the company also labels foods that contain hydrogenated oils and preservatives in a "room for improvement" section.