Making the Most of B-School
Francesca Di Meglio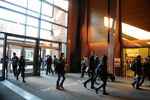 Two years in one's life, which is the typical length of a full-time MBA program, go by pretty quickly. How do you find time for attending classes, networking, finding a dream job, eating and sleeping, and metaphorically finding yourself without missing out on anything? It's a question that many successful B-school applicants are pondering as they prepare for the start of their MBA programs in the fall. Here is advice on how to make the most of those two precious years:
To thine own self be true
The first step is to realize that you can't do it all. Your best bet is to be true to your own passions, says Stacey Kole, deputy dean at University of Chicago's Booth School of Business. Always keep in mind your personal reasons for attending school. Was it to invest in education or was it to change careers? If you keep your goal—whatever it is—at the forefront of your decision-making about events to attend and how to prioritize your activities, you'll use your time in a way that will help you achieve your personal aspirations, she adds.
Explore wisely
"B-School is the perfect time to explore opportunities through clubs and project-based learning programs, or to consider creating your own," wrote Lizzette Hernandez, assistant dean of of the Office of Student Engagement at NYU's Stern School of Business, in an e-mail. If you were aiming for a career in finance, but now find yourself interested in green businesses, attend a lecture on clean energy jobs and decide if one might be worth pursuing, for example.
Part of making the most of your experience requires that you know exactly what you want to get at the end. While you should remain open-minded and reflect on your career possibilities, you also have to narrow your choices early on, says Kole. She says students can help themselves by doing some career exploration during the summer before business school.
One way to explore successfully in school is to take an unexpected class here and there. Eric Johnson, the new dean at Vanderbilt University's Owen Graduate School of Management told admitted students at an event in Nashville on June 1 to take courses they might never consider, such as organizational behavior. "Students often feel that the material is kind of obvious," he said. "But then they'll take that first job where they're trying to lead a dysfunctional team and think, 'Where are my notes?' So take those classes. They'll change the way you think."
Develop your skills
Even though finding a job is of the utmost importance to most MBA students, they still have to learn the skills necessary to keep that job and do it well. This means that learning in the classroom should be a top priority. Procrastinating is not an option if you want to get the most out of the lessons, says Christy Evans, a 2012 graduate of University of Alabama's Manderson Graduate School of Business. "You have to dedicate enough time to allow yourself to fully understand a concept so that you can apply it long after the mid-term," she adds. "There is no point in getting an MBA if you are not going to retain the information and apply it to your future career."
Schedule everything
Practically every moment of an MBA student's life needs to be placed on a calendar. One of the mistakes students frequently make, says Nayla Bahri, dean of students for the MBA program at Columbia Business School, is forgetting to schedule activities such as exercise, a family dinner, or reading for pleasure. The lesson: Pencil in your me time.
Join the discussion on the Bloomberg Businessweek Business School Forum, visit us on Facebook, and follow @BWbschools on Twitter.
Before it's here, it's on the Bloomberg Terminal.
LEARN MORE