ETF Money Blazes a Trail Into New Frontiers
by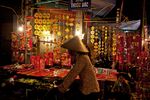 Nigeria, Pakistan and Kazakhstan don't top many traveler bucket lists. Sending money there's another story: The MSCI Frontier 100 Index is up 14 percent this year and assets in exchange-traded funds that specialize in such "frontier markets" have risen 52 percent to $820 million. By contrast, nearly $10 billion has flowed out of emerging market ETFs this year, and the MSCI Emerging Markets Index is down 8.1 percent.
Investors have increasingly easy access to some of the most exotic, promising and yet challenged regions of the investing world. Frontier market is a term used to describe countries that are investable but have lower market capitalizations and liquidity than more developed emerging markets, as well as greater social and political volatility. Such "pre-emerging" countries can offer high reward, but come with higher risk.
One of the less obvious attractions of venturing into these markets is that they don't move in lockstep (to use the jargon, they don't correlate) with the broader stock market or even emerging markets. That means they can offer increased portfolio diversification by zigging when other markets zag. For example, the MSCI Emerging Markets ETF (EEM ) has a correlation to the S&P 500 Index of .83 (on a scale of -1 to 1) over three years. The MSCI Frontier 100 Index has a much lower correlation of .46.
Here's a look at some of the ETFs investing in these up-and-coming markets:
The most popular frontier ETF is the iShares MSCI Frontier 100 (FM ). It holds local shares of 100 frontier stocks spanning the large-, mid- and small-cap universes. Its country weightings lean toward the Middle East; Kuwait, Qatar and United Arab Emirates account for over half the portfolio. (Qatar and United Arab Emirates, after being promoted to emerging markets earlier this month by MSCI, will exit FM in May 2014.)
The fund also has 12 percent in Nigeria and smaller weightings in countries including Kenya, Argentina, Romania, Sri Lanka, Mauritius and Jordan. The financial sector makes up 55 percent of the market capitalization-weighted fund. FM has an expense ratio of .88 percent, or $88 per year per $10,000 invested.
Related stories:
FM, which is less than a year old, has quadrupled in size and volume this year. It has $224 million in assets, trades over 213,000 shares per day and has seen significant volume spikes in the past six weeks. On one day in late May it traded more than 30 times its trailing 90-day average turnover, as documented in this article on Benzinga. That's a sign of increasing investor interest.
Since FM's inception last September it has blown by the older Guggenheim Frontier Markets ETF (FRN ) in assets and volume. FRN isn't a true frontier ETF -- the majority of the fund is in countries that MSCI and FTSE consider emerging markets, such as Chile, Colombia, Egypt and Peru. This is because it tracks a Bank of New York Index which is effectively the only index that deems those countries frontier . In addition, it has a lopsided weighting in Chile, at 50 percent.
A final possible reason investors have soured on FRN is that the majority of the holdings are not local shares, but rather American depositary receipts, which limits the ETF's ability to invest in local frontier stocks that don't have ADR listings.
Other noteworthy ETFs with significant frontier exposure include the PowerShares MENA Frontier Countries Portfolio (PMNA ), the WisdomTree Middle East Dividend Fund (GULF ) and the Global X Central Asia & Mongolia Index ETF (AZIA ).
Roller-Coaster Ride
There are a handful of ETFs that track exposure to one single frontier country. A recent entrant is the Global X Nigeria ETF (NGE ), which came on the scene April 3. The most popular single-country frontier ETF is the Market Vectors Vietnam ETF (VNM ), which holds Vietnamese stocks listed on the local exchange. It's taken in $93 million in new assets so far this year, a 26 percent increase.
Vietnam is a good example of how volatile single-country frontier market investing can be. VNM was up 26 percent for the year through mid-February. It then fell 14 percent during the next 10 weeks, only to surge 10 percent.
VNM is now up 18 percent for the year, but it's been a volatility-filled roller coaster ride. This speaks to VNM's high 90-day volatility of 33.6, which is three times more than the S&P 500 Index -- and why frontier market investing may not be for the faint of heart.
Eric Balchunas is an exchange-traded fund analyst at Bloomberg. More ETF data is available here .
Before it's here, it's on the Bloomberg Terminal.
LEARN MORE