Chrysler, Regulators Stand Down in Jeep Recall Battle
By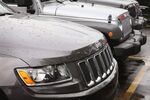 Chrysler and federal regulators negotiated a truce in their war of words over whether the company should recall 2.7 million Jeeps linked to a risk of fire in rear-end collisions. The automaker agreed Tuesday to a "voluntary campaign" to notify owners of 1993-2004 Jeep Grand Cherokees and 2002-07 Jeep Liberty models to visit a dealer to inspect the trailer hitch assembly on the back of the vehicles.
The National Highway Traffic Safety Administration asked the company on June 4 to recall the models over concerns that fuel tanks in the vehicles pose a fire risk in rear-end collisions, citing an inquiry that linked the alleged design flaw to 51 deaths. In its initial response, Chrysler said the agency's conclusions are wrong and that it would not launch a costly recall. The conflict dates to 2010, when the Center for Auto Safety, an organization founded in 1970 by activist Ralph Nader, asked the government to investigate the Jeep models.
The negotiations continued, with neither side appearing ready to take the matter to federal court. In a statement today, Chrysler said the settlement was designed to "supplement" the safety of its products. "Chrysler Group's analysis of the data confirms that these vehicles are not defective and are among the safest in the peer group. Nonetheless, Chrysler Group recognizes that this matter has raised concerns for its customers and wants to take further steps, in coordination with NHTSA, to provide additional measures to supplement the safety of its vehicles."
A Chrysler spokesman said dealers will inspect the hitch assembly and replace it if it appears worn or otherwise suspect. The hitch system is designed to provide additional protection to the fuel tank and manage the forces of low-speed impacts, Chrysler said. Notices of the inspections and repairs will begin going to owners of the Jeeps in question this summer.
In an e-mailed statement, the NHTSA said it was "pleased that Chrysler has agreed to take action to protect its customers and the driving public." The agency also said it will review the documents Chrysler sends in its "recall action." The word "recall" does not appear in the automaker's statement.
Before it's here, it's on the Bloomberg Terminal.
LEARN MORE