A New Push to Sell the World's Biggest Jet
by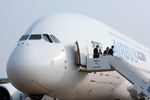 The world's largest passenger plane can intimidate an airline executive, with a retail price north of $400 million and as many as 700 seats across two decks—a huge capital outlay in an industry well-known for turning such investments into red ink. That's one reason sales have been sluggish for the Airbus A380 superjumbo.
It's also the reason that a deal for 20 A380s by Doric Asset Finance—the largest lessor for the model—made such a splash this week at the Paris Air Show. Based on the plane's retail price, the Doric order is valued at $8.1 billion. The firm probably paid less: Big buyers almost always command discounts, and Airbus is eager to broaden the jet's use beyond the nine airlines that currently fly it. One point of the deal, according to Doric and Airbus, is to get more of the planes in the air, and by comparison the $1.8 million monthly lease price is a relative bargain.
"We'd like to think that a significant part of the order will go to operators that have not yet got the A380 in their fleet," Paul Kent, Doric's chief commercial officer, said in a telephone interview today from the Paris Air Show. "Our goal is basically just to have them crew it and schedule it and then make money on flying it."
To that end, Doric will increase the number of seats on the A380 to 500 to 550, more than many operators now put on their A380s. One airline, Korean, flies the plane with only 407 seats, a roominess left over from a time when airlines imagined jumbo jets as a marketing wonderland, with in-flight casinos, shops, gyms, and beauty salons. Emirates, for example, has two "shower spas" on the upper deck of its A380s for first-class passengers. No such bespoke amenities in the leased fleet, and in its talks with Doric, Airbus has agreed to standardize its design for the main deck, which will make the A380 more easily transferable from one airline to another, Kent said. Premium classes on the upper deck would retain their customizable seating options.
Doric may find A380s a tough sell for many airlines, but with long-haul flights expected to grow—and many airports suffering congestion—the industry will field more of the superjumbo jets, George Dimitroff, an Ascend vice president, said in an interview from Paris. "There is pent-up demand. There's plenty of cases where there's congestion and airport slot constraints," he said, citing seven daily departures from Los Angeles to Tokyo that happen within a three-hour window. Bigger planes with more seats would require fewer flights overall. He also predicts that Doric will find interest from airlines that have placed relatively small A380 orders. British Airways, which receives its first A380 on July 4, has bought a dozen, as has Air France. Virgin Atlantic and Thai Airways have each ordered six. In time, airlines such as these may seek "additional top-off orders" from a lessor like Doric, Dimitroff says.
And what happens when the first A380s come off their initial 10- to 12-year leases? First up for Doric will be a Singapore Airlines A380 in 2017. Historically, more than 80 percent of widebody lessees retain the aircraft after the first lease, and Doric expects that trend to continue.
Before it's here, it's on the Bloomberg Terminal.
LEARN MORE