business
A Chinese Dissident's Messy Departure From NYU
By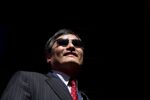 The partnership between Chinese dissident Chen Guangcheng and New York University has come to a messy end. A year after NYU offered the blind, self-taught lawyer a way out of China, Chen and the university are parting ways, and he isn't happy with how he has been treated. In a statement, Chen says NYU—which later this year will open a new campus in Shanghai—was on the receiving end of "great, unrelenting pressure" from the Chinese government to force him out.
The professor who helped arrange a Greenwich Village refuge for Chen in New York last year is having none of that. Chen's accusation is "all nonsense," Jerome Cohen told Foreign Policy in an interview (log-in required). "No one has given one fact [to show that] Chen has been restricted or not done much at NYU." As the leading China legal expert in the U.S., Cohen has a long history of working with Chinese dissidents and says his university has been "extraordinarily generous" to Chen and his wife over the past year, something Chen should have kept in mind before denouncing NYU for limiting him to a one-year fellowship. "You shouldn't bite the hand that feeds you," Cohen said. "If I had seen a basis for [NYU restricting Chen] at all, I would have been the first to raise the alarm."
Chen needs better advisers. In his statement, the brave dissident who stood up to the Chinese government is diminished by petty complaints about not getting a chance to meet NYU President John Sexton. The Chens "have always wanted to thank the president of NYU in person," the statement said. "Regrettably, to date, we still have not had the chance to meet him. Although NYU has arranged many of our activities, to date, it has not arranged a meeting for us with the president. Therefore, I can only show my gratitude to him in this way."
Sexton, one of the most controversial university presidents in the U.S., surely has endured much worse. He has taken a lot of flack for his strategy to turn NYU into a global school, with campuses not just in New York but in Abu Dhabi and Shanghai, and the expansion in the university's Greenwich Village campus has faced long-running opposition from faculty and local residents. Sexton lost two no-confidence votes last month, bringing to four the number of rejections he has received from NYU professors displeased with his leadership.
Given those embarrassments, Sexton should be able to cope with the latest snub from Chen. The most significant part of the dissident's statement, though, is the suggestion that NYU is not alone in feeling the heat coming from Beijing. "The work of the Chinese Communists within academic circles in the United States is far greater than what people imagine, and some scholars have no option but to hold themselves back," Chen said. "Academic independence and academic freedom in the United States are being greatly threatened by a totalitarian regime."
Greatly threatened? That's a stretch, but Chen does have a point. As part of its "soft power" strategy to promote Chinese influence by increasing foreigners' awareness of Chinese culture, China's government has been offering funding to U.S. schools willing to host state-backed Confucius Institutes. There are over 70 of these centers in the U.S. Serving similar roles as the Alliance Française for French or the Goethe-Institut for German, the Confucius Institutes help satisfy the growing demand for Mandarin language education in the U.S.
But as my Bloomberg News colleagues wrote two years ago, the schools come with strings attached. "By peddling a product we want—namely Chinese language study—the Confucius Institutes bring the Chinese government into the American academy in powerful ways," says Jonathan Lipman, a professor of Chinese history at Mount Holyoke College in South Hadley, Mass., who also sits on the China and Inner Asia Council of the Association for Asian Studies. "The general pattern is very clear," Lipman says. "They can say, 'We'll give you this money, you'll have a Chinese program, and nobody will talk about Tibet.' In this economy, turning them down has real costs."
Before it's here, it's on the Bloomberg Terminal.
LEARN MORE