Why Choose Wharton? Because It's Blue
by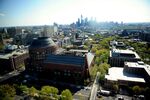 A guest post from Matt Symonds, chief editor of MBA50.com, a website dedicated to the world's outstanding business schools. He is also director of Fortuna Admissions and co-author of ABC of Getting the MBA Admissions Edge.
In the ever more competitive market for business education, schools are showing themselves willing to spend serious money to get their branding right. Everything from logo, to tone of voice, to the message from the dean on the school's website is picked over in forensic detail. But how important is something as basic as color when it comes to winning the battle for the best potential students?
Facebook apparently adopted blue as its corporate color because it was one of the few that color-blind Mark Zuckerberg could see properly. According to design specialists at the Logo Co., most large organizations make their choice of color on even more utilitarian grounds. The company's "color emotion guide" argues that the way we react to colors is hardwired into us. Red signifies excitement, yellow is optimistic, and Wharton's blue is strong, dependable, and trustworthy.
But brand is much more than a logo. Brand is your mission, your strategy, your people, your promise. It's reflected in every detail of your business. Colors are an integral part of a brand strategy, so what do they say about the world's top business schools?
Wharton is not the only one to choose blue. It's also the color of choice for more than a dozen other top business schools—from Columbia Business School and Duke's Fuqua School of Business in the U.S. to London Business School in the U.K., ESADE in Europe, and the Indian School of Business in Asia. It is closely followed by red—all youthful, bold, and arguably entrepreneurial—as used by Stanford Graduate School of Business, Chicago's Booth School of Business, and MIT's  Sloan School of Management, among many others. I was thinking of adding Harvard Business School to that list but then remembered that the school's color is, in fact, crimson—which in Elizabethan England could be worn only by royalty and nobility. That sounds about right.
Colors have cultural connotations, too. That red is used by the China Europe International Business School in Shanghai is hardly surprising given the Chinese association with luck and fortune. And while the green of Dartmouth's Tuck School of Business and INSEAD reflects health and growth in marketing terms and does a pretty good job of evoking the leafy rural campuses of Hanover, N.H., and Fontainebleau, France, it is a forbidden color in Indonesia and could make their MBAs a tough sell in the largest economy in Southeast Asia.
While the recent rebranding exercise by Northwestern's Kellogg School of Management generated the marketing slogan "Think Bravely," the school did not touch the use of purple in its logo. For schools such as Kellogg, NYU's Stern School of Business, and Manchester Business School that view the "purple qualities" of creativity and imagination as defining their brands, sticking with the color makes sense.
Then there is orange, which seems to have been one of the hip colors of the Internet age. According to the color emotion guide, orange is all about friendliness and confidence, and few alumni of Virginia's Darden School of Business and UT Austin's McCombs School of Business would disagree.
But the color that seems to get left out is yellow. Other than the maize M of Michigan's Ross School of Business and the gold of Belgium's Vlerick Business School, which recently rebranded to convey the school's vitality, I couldn't find much use of yellow among the logos of the top schools. You would think that a color associated with optimism, clarity, and happiness would be a little more popular with institutions that promise all three.
Join the discussion on the Bloomberg Businessweek Business School Forum, visit us on Facebook, and follow @BWbschools on Twitter.
Before it's here, it's on the Bloomberg Terminal.
LEARN MORE