business
What's Harley-Davidson Doing in Vatican City?
By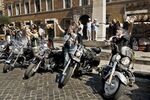 Pope Francis gave some oomph to a massive Harley-Davidson publicity campaign yesterday, joining the likes of Toby Keith and Kid Rock.
The Pope blessed some 35,000 hog pilots who descended on Vatican City from all over the world, including 800 lucky winners who were allowed to park their bikes on the road leading to St. Peter's Square.
There's no telling what the Milwaukee-based manufacturer paid for such holy access, but it's easy to see why it wanted a big, splashy European event: Harley has been slipping in Europe. Its motorcycle revenue on the Continent fell by 6 percent last year and by an additional 13 percent in the first quarter of 2013. That's not surprising, given the crummy state of the European economy. So-called "heavy-bike" registrations on the Continent were down 21 percent in the first quarter alone, according to Harley's SEC filings.
What is surprising—and what makes the Vatican City rally timely—is that Harley is losing market share in Europe. Last year, the company claimed 13.3 percent of motorcycle registrations on the continent, down from 13.7 percent in 2011. Europeans have long-preferred so-called sportbikes made by companies such as BMW, Honda, and Suzuki to the laid-back cruising vehicles for which Harley is known.
Meanwhile, in the U.S., Harley commands 57 percent of the market, a share that has increased in recent years.
Harley is almost as much of a marketing machine as it is a motorcycle maker. The big event in Rome was part of its year-long 110th anniversary celebration. The PR bonanza comprises official Harley-backed rallies in 11 countries, including India, Malaysia, Brazil, and South Africa. Keith and Kid Rock are on the billing for a summer-end bash in Milwaukee.
Italy, however, was perhaps the most important of the leather-fringed fetes. Harley sells almost 40,000 bikes a year in Europe—almost twice as many as it does in Asia and roughly four times the amount it ships to Latin-America.
Before it's here, it's on the Bloomberg Terminal.
LEARN MORE