The Chemical That Hurt U.S. Pork Exports
by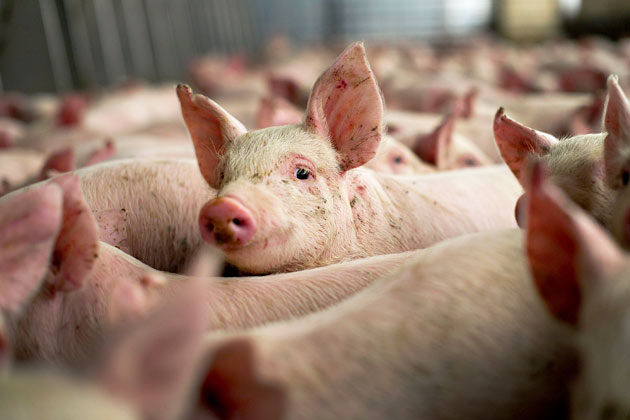 The largest pork producer in the U.S., Smithfield Foods, announced a 63 percent plunge in net income for its most recent quarter, the result of China and Russia banning U.S. pork earlier this year. The weak earnings, coming on the heels of Smithfield agreeing to be bought by China's Shuanghui, marked a surprising turn of events. Isn't China supposed to be hog heaven for big U.S. pork suppliers?
The culprit behind the pork-import bans is ractopamine, a feed additive given hogs to make their muscle meat leaner and increase the efficiency of their development. The use of the chemical saves about $5 per hog on production costs, says Steve Meyer, former chief economist for the National Pork Producers Council and president of Paragon Economics, a consulting firm. "I have no problem with bringing someone the product they want," he says, "and the pork industry doesn't either—as long as they pay for it."
In February, Smithfield said it would convert half its hog output to be ractopamine-free by June, but the industry is still grappling with the consequences of having a split export market, in which some customers prohibit pork with the chemical and others don't. The European Union doesn't allow meat with ractopamine, which is sold commercially as Paylean, although countries such as Canada, Brazil, Mexico, Japan, South Korea, and the U.S. consider it safe. The ractopamine ban in China limited U.S. pork shipments to what was the third-largest export market for American pork producers last year.
Ractopamine is made by Elanco, a unit of Eli Lilly. An international food-safety body, the Codex Alimentarius Commission, approved (pdf) the chemical as safe for humans last year, but the divide over the additive in the international meat market remains. Only the largest hog producers, including Smithfield, Cargill, Hormel Foods, and Tyson Foods, can manage the logistics of a dual feeding operation to sell in both markets, says Meyer. "From what I've heard, if you're going to produce hogs, you need to use Paylean or be 100 percent Paylean free," he says. "It's kind of an all-or-nothing deal."
Smithfield agreed to be acquired last month by a major Chinese pork producer, Shuanghui International, for $4.7 billion, a deal that could hit a potential snag on valuation. Starboard Value, an activist hedge fund that likes small-cap stocks and has a nearly 6 percent stake in Smithfield, told company directors in a June 17 letter that a split of the Virginia-based company and sales of its assets could yield a value of $44 to $55 per share. Shuanghui's bid values the company at $34 per share. Starboard's letter was first reported by the Wall Street Journal.
China's push to boost pork supplies for a growing middle class—while improving its food safety and consumer perceptions—is a key part of the deal, which is expected to increase U.S. pork exports to China, the world's largest pork market. Domestic hog farming in China has thus far not adopted the production techniques common among U.S. producers, which are far more efficient.
Meyer says the uproar over ractopamine may lead to less use of the feed additive, but pork—outside the confines of organic and specialty pigs—remains a commodity business and farmers will look to produce as cheaply as they can. "This is one of those efficiency vs. the Luddite things here, I think," he says.
Before it's here, it's on the Bloomberg Terminal.
LEARN MORE