Scotus Takes a Case That Asks: What Is Racial Bias?
By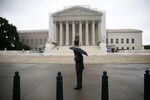 Amid the flurry of opinions issued today, the Supreme Court also agreed to hear a case that takes on one of the most controversial fair-lending debates around. The case, Mount Holly v. Mt. Holly Gardens Citizens in Action, centers on a question about what constitutes racial discrimination: Does bias have to be intentional to be illegal, or is unequal impact, regardless of intent, enough to show discrimination?
The case involves housing. Residents in a south New Jersey neighborhood said their town's plan to demolish their homes had a disparate impact on black and Hispanic residents, which they contend violates the Fair Housing Act. Here's how our Bloomberg News colleague Greg Stohr explains the context:
"Known as the Gardens, the neighborhood was originally developed to provide homes for returning World War II veterans and their growing families. In more recent years, the Gardens was the only predominantly black and Hispanic area in town, with 75 percent minority residents in 329 residential units.

"The town began buying homes in the Gardens, in most cases paying between $30,000 and $50,000, until only 70 remained in private hands. The redevelopment effort has since stalled, even as the town has destroyed scores of homes and accumulated $18 million in debt. No new houses have been built, and the remaining structures now form a patchwork amid vacant lots."
The Obama administration contends that policies with a disparate impact show proof of bias and has been encouraging agencies to crack down when they see it. The Consumer Financial Protection Bureau's fair-lending office, for example, has told lenders that it will be looking for unequal treatment in a range of credit products, including mortgages, credit cards, and auto loans. Lenders and other businesses don't like the approach, saying it's overly burdensome and can lead to some unintended results—such as discrimination against white males.
The Obama administration didn't want to risk having the Supreme Court shoot down the legal theory, which 11 appeals courts have upheld, so the Solicitor General argued that the justices shouldn't hear the case. But the administration didn't get what it wished—and the question of what constitutes bias will be argued before the court next term.
Before it's here, it's on the Bloomberg Terminal.
LEARN MORE