New Wrinkles on How Family Businesses Sabotage Themselves
By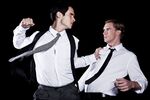 If you run a family business, you probably already know research indicates family-owned businesses tend to have better long-term financial performance than their counterparts that aren't run by blood relations. And you're probably well aware infighting among family members can lead to breakups, selloffs, and bankruptcies, as this history of the Shoen family's U-Haul trucking empire shows. Or as any of these tales of woe from the newspaper business (the newspaper business!) show, from the Bancrofts, former owners of the Wall Street Journal; to the Chandlers of the Los Angeles Times; to the Binghams of the Louisville Courier-Journal.
What can you do to prevent self-sabotage and improve your company's odds of successful succession? In a new book, Managing Conflict in the Family Business, management consultants Kent Rhodes and David Lansky share scenarios that might not be on your radar. "There's a lot of complexity in family relationships. But in a family business, the space that most of us have to navigate those relationships doesn't exist. You keep bumping up against these problems," says Rhodes, a professor at Pepperdine University School of Business. Here are several dilemmas they identified—and their advice for dealing with them:
Fairness: As parents bring their offspring into a family business, they often try to be "fair and equal" with all of them, the authors say. That's understandable—but a big mistake. Grown children employed by the company "should be compensated according to the level of jobs they have, and how qualified they are," not simply because they are family members, Rhodes says. Another common mistake: automatically giving each child an equal stake as ownership passes to the next generation. U-Haul founder L.S. Shoen, with disastrous results, equally divided the company among 12 children he had by three different wives.
Conflict avoidance: Most families have a tacit agreement on "certain things we don't talk about," Rhodes says. But in a business, if a problem isn't discussed, it can fester and cause serious damage. If there is a board of directors, the members tend to be "friends of Dad and Mom and Grandpa and Grandma," who will hesitate to confront difficult issues, Rhodes says. He and Lansky recommend that family-owned companies appoint strong independent directors.
Triangulation: Instead of resolving differences themselves, family members may turn to someone outside the company. "Sometimes, if the mother is not working in the company, she tries to manage the relationships of her adult children. She may be seen as having favorites, and this exacerbates the conflict," Rhodes says. In one business Rhodes advised in the Upper Midwest, an outside lawyer was drawn into a dispute between family members, and information about the company's problems were leaked publicly. "It wreaked PR havoc," he says, "and predictably it resulted in multiple lawsuits." Their strong advice: Keep the discussion inside the company.
Bullying and scapegoating: Family members sometimes use these tactics to control difficult situations or escape personal responsibility. Often, non-family managers are unfairly blamed. Equally disturbing, Rhodes says, is a strong tendency for female family members to be bullied and scapegoated by their male counterparts. "I've seen situations where a woman runs a very significant part of the business and is very smart and well-educated," he says. "But when she begins to talk about next steps for the enterprise, she is shut down. They'll say, 'Oh, she's just our little sister.' As a management consultant, I've had to tell them, 'I think you should listen to what she says.'"
Sometimes it's better for warring family members simply to go their separate ways. That's what happened with Rudi and Adolf "Adi" Dassler, two German brothers who were partners in a shoe company started by Adi in their mother's kitchen. After a falling-out, both found global success in the shoe business. Adi built his company into Adidas, while Rudi struck out on his own to start Puma.
And even the most brutal infighting may not kill a family company. U-Haul and its parent company, known as Amerco, are still run by descendants of the founder.