pursuits
'Man of Steel' Soars With a Boost From IMAX
By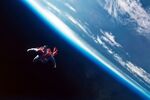 Man of Steel brought in $113 million in its opening weekend, about $25 million more than Warner Brothers had projected. It's officially the second-most-successful movie of the year, behind Iron Man 3 (which pulled in an astounding $174 million during its opening weekend). Superman's triumphant box-office performance practically guarantees that the 75-year-old superhero will feature prominently in sequels, video games, animated Cartoon Network shorts, and new comic books. There is also rampant speculation about a potential Justice League ensemble film (in which Superman collaborates with fellow DC Comics stalwarts such as Batman and Wonder Woman), after the popularity of last year's The Avengers.
While Man of Steel proves the enduring appeal of DC Comics' most famous superhero, it also highlights another phenomenon: the money-making potential of IMAX.
Consumers spent $10.8 billion at the movies last year, up 12 percent from five years ago, according to the Motion Picture Association of America. Surprisingly, the same percentage of Americans (two-thirds) saw a movie in the theater last year as in previous years, while the average ticket price stayed the same, at just under $8. So the MPAA believes (PDF) the increase in revenue comes from avid moviegoers who go to theaters to see the same film multiple times. This poses a problem for studios that don't rely on hardcore fanboys. So how can a film otherwise make more money? Well, convince people to buy pricier tickets.
IMAX theaters have grown 150 percent in the U.S. over the past five years and have become the preferred film format for blockbusters. This summer has seen a surprising number of big-budget successes, most of which relied heavily on IMAX's higher prices (about $3 to $5 more than a traditional ticket) to boost their sales.
Man of Steel played at 331 IMAX theaters last weekend, averaging an impressive $53,000 per screen. (For comparison, The Hunger Games earned $38,000 per screen last year, which is pretty typical.). The IMAX haul accounted for $13.3 million, or 12 percent, of Man of Steel's opening weekend total. When Iron Man 3 came out in May, IMAX accounted for about 16 percent of the total. For years, critics have worried that the high price of IMAX shows would scare off average moviegoers, but Man of Steel and Iron Man 3 have shown that's not the case. And you know what this means: There are many more IMAX films in Hollywood's future.
Before it's here, it's on the Bloomberg Terminal.
LEARN MORE