business
Lowe's Buys Into the California Housing Rush
By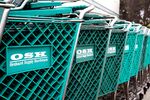 The housing recovery waits for no one, particularly in California. Today, Lowe's executives swooped in with a $205 million cash offer to buy the freshly bankrupt Orchard Supply Hardware, which has all but two of its 91 stores in the Golden State.
Lowe's is no stranger to California. Its stores there account for 6 percent of its sales, according to Goldman Sachs. But Home Depot gets one-tenth of its sales there, which is one of the major reasons it has outperformed Lowe's of late.
Orchard Supply would give Lowe's instant local cred in the market. It's been there in one form or another since the Great Depression, and Lowe's plans to keep its stores operating under the Orchard Supply name, according to the Wall Street Journal. California, meanwhile, has more contractors buying two-by-fours, drywall, and paint than almost any other part of the country. Eight of the top 10 real estate markets in the country are in the Golden State, according to Realtor.com data, and the deal is a quick way to "participate more fully in California's economic recovery," Lowe's Chief Executive Officer Robert Niblock said in a statement.
To see how the deal adds up for Lowe's, consider San Francisco, where home prices are up 22 percent from a year earlier. Home Depot has about nine stores in the Bay Area. Lowe's has four; Orchard would give it five more.
But Orchard is no money tree. Its same-store sales have fallen for at least five years and it hasn't posted an operating profit for five quarters. All the while, it has struggled under the debt load it shouldered when spun off from Sears in December 2011. Despite frantically selling its buildings and leasing them back, the company buckled into bankruptcy today.
Lowe's is only offering to buy two-thirds of Orchard stores for $205 million in cash, plus the assumption of $230 million in debt—about 70 percent of Orchard's annual revenue. In other words, Lowe's is buying slightly damaged goods, possibly at a discount, depending on sales at the stores it picks up. But in the rush for California housing, a fixer-upper is better than nothing.
Before it's here, it's on the Bloomberg Terminal.
LEARN MORE