Feds Raid 7-Eleven Owners' 'Modern Day Plantation'
By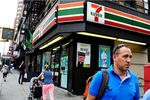 Being a franchisee means tying your small business to the brand of a much larger enterprise. Normally, that's meant to be a benefit: The name recognition of a national brand will attract customers to your restaurant or store, rather than to that of a no-name competitor. Occasionally, it can backfire.
That's what 7-Eleven franchisees are learning today after federal prosecutors accused the owners of 14 convenience stores in Long Island, N.Y., and Virginia of running "a modern day plantation system" of indentured workers. The stores employed at least 50 illegal immigrants over 13 years, using stolen identities of U.S. citizens, according to prosecutors. The immigrant workers weren't paid in full, and they were forced live in boarding houses and pay rent in cash to the store owners, the authorities say.
The company, which is owned by Japan's Seven & I Holdings, says it's cooperating with investigators. "7-Eleven, Inc. will take aggressive actions to audit the employment status of all its franchisees' employees," spokeswoman Margaret Chabris said in an e-mail. The company "is taking steps to assume corporate operation of the stores involved in this action so we can continue to serve our guests."
The feds have charged nine operators—six identified as naturalized U.S. citizens, two Pakistani nationals, and one citizen of the Philippines—with an array of charges, including conspiracy to commit wire fraud, identity theft, and harboring illegal immigrants. (No information about attorneys for the people charged was available Monday afternoon.)
Investigators from the U.S. Department of Justice and the U.S. Department of Homeland Security are seizing the stores and five houses where the workers lived, and they say they are scrutinizing 30 additional 7-Eleven stores across the country. "The actions taken are the initial results of an ongoing investigation into the employment and exploitation of illegal immigrants at 7-Eleven franchise stores nationwide," according to the statement by the U.S. attorney's office in the Eastern District of New York.
Authorities name-checked 7-Eleven's iconic brands in overwrought canned quotes that are a staple of prosecutors' news releases: "The defendants dispensed wire fraud and identity theft, along with Slurpees and hot dogs," U.S. Attorney Loretta E. Lynch is quoted as saying. Another investigator says franchisees "will be better known for their big fraud than their Big Gulp."
Allegations of indentured servitude aren't good for any brand. Franchisees operate about 5,700 7-Elevens in the U.S., according to the company's website. Even if there are more shoes to drop in the investigation, the vast majority of 7-Eleven operators will be uninvolved. (When I called an association representing 7-Eleven franchise owners, I was told no one could comment.)
Fast food chains have been here before. Gross-out videos by Domino's Pizza employees and footage from a rat-infested Taco Bell put both companies in unflattering spotlights in recent years. The allegations revealed today are abhorrent, but 7-Eleven owners who have nothing to do with them are unlikely to see Slurpee sales dry up any time soon.
Before it's here, it's on the Bloomberg Terminal.
LEARN MORE