Business School Lessons From the Top of the World
Elizabeth Rowe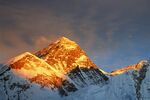 D. Scott DeRue, a professor at University of Michigan's Ross School of Business, summited Mount Everest last month. But rather than leaving his experiences on the mountain, he plans to integrate them into a required leadership course for MBA students through a computer simulation that mimics his own challenges during the grueling, two-month climb.
What made you decide to climb Mount Everest?
I think there are three reasons. One, I love to challenge myself. Two, I study how teams accomplish big "Everest" goals, and Everest provides a great laboratory for studying what makes teams great. Three, I am inspired by people who set big goals, commit to them, and accomplish them. On Everest, those people are everywhere, and it was pure joy to be around them for two months.
How are your experiences from the climb integrated into your curriculum?
We teach three things with Everest. One is called the "me vs. we" culture, and it's about the importance of goal alignment in organizations. Teams require a shared vision and a shared goal to be effective. On Everest, everyone wants to summit, but the priority of other goals, like those related to safety, can differ among individuals. The same is true in business.
The second thing that we teach is how to deal with risk and make decisions in the face of risk. The challenge is putting students in a situation where the risks are novel and dynamic, and they have to deal with them in this highly charged situation where conflicts arise, but also safe enough so they can learn from the experience. We teach things like how to manage communication in a team, how to test assumptions, and how to ask the right questions and make sure that you'll make the best decision given the risk factors in play.
The third thing we focus on is that great teams are not perfect, but they learn and adapt in highly complex situations. Everest is a great laboratory for studying how people develop mental toughness to overcome setbacks: You encounter weather changes, health challenges—it's about how you adapt.
What is it about climbing Mount Everest that you hope resonates with your students?
The idea that they should dream big. These are some of the smartest, most motivated people in the world, and if mediocrity is good enough for them, that's really unfortunate for all of us. Hopefully it's inspiration for discovering what their own Everest is, so they can commit to it and go after it.
Join the discussion on the Bloomberg Businessweek Business School Forum, visit us on Facebook, and follow @BWbschools on Twitter.
Before it's here, it's on the Bloomberg Terminal.
LEARN MORE