An Oldenburg Just for You. And You. And You and You.
by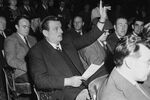 Editions, or sets of an artist's prints, are often cited as an entry point for aspiring collectors. They're reproductions, usually lithographs, of a work made to be sold in the mass market.
In the world of blue-chip art, even something marketed for broad appeal may be out of your price range. Prints like the ones on auction at Paddle8 's editions sale (online from June 19th- July 3rd) are estimated at $400 to over $150,000. At a glance, it looks like a sound hoodwinking. You, the aspiring collector, are basically buying a very high-quality, very limited-edition poster ... not unlike one you could have picked up at a museum gift shop. The difference? One or two, or three, decimal points.
Moreover, part of the thrill of owning an artwork has always been the knowledge that you alone possess it. Yes, your artist's print will usually have a signature on it, but if you look at a work as a unique manifestation of its creator's genius, an edition of several hundred can feel like a distant second-best.
Yet such arguments have been vulnerable ever since Duchamp's readymades and were blown out of the water by Andy Warhol's factory. Warhol wasn't just up-front about not making most of his artworks -- it became the art itself. Similarly, Damien Hirst wasin the news recently after it was announced that his workshop had created 1,365 spot paintings, only the first few dozen of which he painted himself. Even John Chamberlain , a pillar of late modernism, never bothered to weld any of his iconic metal sculptures -- an assistant did it.
The authenticity of art is no longer contingent on the artist's hand being evident in the work. It is now also a question of artistic intent. And, in that respect, an edition is actually an excellent buy. You get a work of art signed by the artist, and created expressly to be a multiple by an artist you admire, and the artist gets to sell 300, or 500, or 1,000 works after having made only one. Best of all, you can afford it (or come close to affording it), in a refreshing change from the multi-million-dollar art-world headlines .
A final bonus: A limited-edition print lends a certain validity to the other posters you've had on the wall since college. They're not signed, but they're still, technically, editions.
Yes, out of 60,000, but who's counting?
James Tarmy reports on arts and culture for Bloomberg Muse, the arts and leisure section of Bloomberg News.

Before it's here, it's on the Bloomberg Terminal.
LEARN MORE