pursuits
A Free BMW Is Nice, But a Raise Is Better
By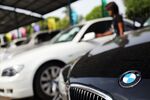 If your work alone doesn't keep you at your job, maybe a BMW will. In an effort to keep its 174 general managers happy, the Cheesecake Factory provides them with a company-leased BMW every three years, the Wall Street Journal reported today.
It's a benefit the restaurant has offered for many years. As stated in a recent filing (pdf), Cheesecake Factory executives, restaurant general managers, area directors of operations, area kitchen operations managers, and selected additional management positions are "assigned imputed income, according to IRS regulations, for his or her personal use of the automobile or is provided with an automobile allowance. The type of vehicle and amount of allowance varies with the executive's level in the company." The company declined an interview request.
BMW or otherwise, the company car is a perk in decline. In its new 2013 Employee Benefits report, released last Friday, the Society for Human Resource Management found only about one-quarter of companies offered personal use of company vehicles. Less than half provide allowances for using personal vehicles for business.
What do employees really want? More money, of course. In a CareerBuilder survey, 70 percent of people responded that increasing salaries is the best way to boost retention. This way, you can save up for a Lamborghini.
Before it's here, it's on the Bloomberg Terminal.
LEARN MORE