Obama-Gown Designer to Give Hugo Boss Womenswear Boost
Julie Cruz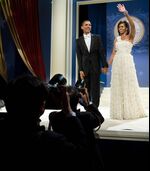 Hugo Boss AG hired Jason Wu to do for its womenswear unit what Michelle Obama did for Jason Wu.
The company, best known for boxy men's suits that can cost $1,200 or more, has hired the 30-year-old to turn around its women's line, which isn't known for much at all. The designer, who provided the U.S. First Lady with dresses for inaugural balls both times her husband was elected, will be charged with snagging a bigger share of the $74 billion market for women's luxury clothing and footwear.
"Wu's goal will be to make Boss's womenswear exciting and sexier," said Gauthier Boche, associate strategy director at the consultant Lothar Boehm Associates Ltd. in London. "Hugo Boss Women is too bland at the moment."
While Hugo Boss has been making women's clothing since 1998, its offerings such as 279-euro ($372) business dresses and 160-euro skinny jeans brought in 249 million euros -- just 11 percent of revenue -- in 2012. The unit grew at 8 percent in 2012, versus 15 percent for menswear.
With Wu at the helm -- he started June 15 -- the women's business is poised to expand faster than men's next year, Berenberg Bank predicts.
"I don't see why they couldn't double revenue coming from their women's collection within five to six years," said Anna Patrice, a Berenberg analyst in London. "Womenswear is a lot more structured now and it's not just a complement of menswear anymore."
Columbus Circle
Boss opened an 800-square-meter (8,600-square-foot) store in Amsterdam this year where an entire floor is dedicated to womenswear. From September, it will have a women's floor at its store on New York's Columbus Circle.
"Womenswear will continue to be one of the big growth drivers," Chief Executive Officer Claus-Dietrich Lahrs said in May on a conference call with analysts. The company declined to make Wu or other executives available for comment.
The Germany fashion house vowed to capture a greater share of the womenswear market in 2011, when it created a separate unit for the business and named Nike and Puma veteran Eyan Allen as its creative director. Nonetheless, womenswear sales have stagnated at just over 10 percent of total revenue.
Boss, which introduced its first line of women's clothes more than 70 years after its founding in 1924, faces fierce competition from brands such as Burberry Group Plc, which is eliminating some entry lines to nudge its image upscale. The London-based trenchcoat maker made more than 30 percent of its revenue from womenswear in 2012.
Earnings Multiple
Boss shares were unchanged at 84.07 euros at the close of trading in Frankfurt today. They have advanced 5.4 percent this year, trailing Burberry's 14 percent advance in 2013.
Boss, 56 percent owned by London private-equity firm Permira Advisers LLP, trades at 19.7 times earnings, versus Burberry's multiple of 24 times.
Because of the Hugo Boss name, "it's difficult to picture the brand as a womenswear brand," said Manfred Abraham, managing partner at retail consultant BrandCap in London. "In terms of style, it's good tailoring, but it's not exciting."
Taiwan-born Wu moved to Vancouver with his family when he was 9. He studied sculpture in Tokyo at 14 and spent his senior year of high school in Paris, according to his website. He then moved to New York City and enrolled in the design school Parsons, whose alumni include Marc Jacobs, Tom Ford and Alexander Wang.
Wu is "an incredibly good designer and an incredibly smart businessman," said Simon Collins, dean of the school of fashion at the Parsons design school.
Alicia Keys
"That's one of the things that really appealed to Hugo Boss," Collins said by phone. "We know that you can't be completely conceptual and expect to put food on the table."
Wu introduced his own clothing label in New York in 2007, followed by a shoe and handbag collection in 2010. He designed pieces such as the $1,995 Daphne shoulder bag and Beverly shoes priced at $895. Wu has dressed celebrities such as Jessica Alba, Alicia Keys and Charlize Theron, and his collections are now sold in 39 countries.
His star rose with the white chiffon one-shouldered gown Michelle Obama wore in 2009 -- a "defining moment" for the designer, said Sandra Halliday, editor-in-chief at fashion and retail forecaster WGSN in London.
"Since that moment he has quietly and steadily built a major luxury fashion brand," Halliday said. "He has been able to leverage the fame he achieved for his red carpet dresses into products that affluent women will want to wear or carry in their daily lives."
First Collection
Wu will give Hugo Boss a stronger profile in the U.S. and in Asia. The retailer made about 40 percent of its revenue in the combined Asia and Americas region last year and plans to increase that to about half by 2015.
Boss "couldn't have become a big name for luxury womenswear without Wu," said Armando Branchini, founder of luxury consultant InterCorporate in Milan. "Wu will make the brand more fashionable and more interesting."
Wu will oversee a design team at the company's headquarters in the southern German city of Metzingen. He will also open a studio in New York, and is expected to present his first Hugo Boss collection at New York Fashion Week in February.
"This is an opportunity to re-launch" the Boss womenswear line, said Graham Hales, London CEO at consultant Interbrand. "Jason Wu will want to make noise and Hugo Boss will want him to make noise."
Before it's here, it's on the Bloomberg Terminal.
LEARN MORE