business
With B-School Tech Jobs Growing, MBAs Flock to Amazon
Francesca Di Meglio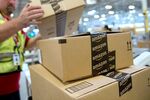 Wall Street has long been the destination of choice for many MBAs, with big banks taking more than 40 percent of the graduating class at some schools. But job cuts in financial services have sent many MBA grads in search of new career paths. Many have ended up in technology, and few companies have been as aggressive in their pursuit of MBA talent, or as successful, as Amazon.com.
The giant online retailer now hires hundreds of MBAs annually, with many of them coming through the company's internship program, which will employ more than 200 MBAs this summer, says Susan Jameson Harker, Amazon's vice president of global talent acquisition.
"I think people are seeing Amazon continue to grow and our MBA program is an important source of talent," she says. "We have a lot of senior leaders who started at Amazon after completing their MBAs."
The Seattle company is the fifth-biggest employer of graduating MBAs, according to data on more than 200 full-time MBA programs collected by Bloomberg Businessweek—behind management consulting firms McKinsey, Boston Consulting Group, and Bain. Amazon is No. 4 on the 2013 Universum list of most popular MBA employers, up from No. 8 in 2011 and No. 6 in 2012.
At the University of Pennsylvania's Wharton School, where Amazon hired 11 grads last year, MBAs are a little tech-crazy. At a conference on campus, Admissions Director Ankur Kumar told attendees that more students are working at Google and Amazon this summer than at Goldman Sachs and Credit Suisse. Amazon picked up another 14 2012 grads at the University of Michigan's Ross School of Business and 10 each from ESADE and INSEAD, according to data supplied by the schools. At ESADE, Amazon more than tripled its MBA hires, from three in 2011.
Pollyanna Nethersole, the career services director at ESADE, said students are attracted by Amazon's customer-centric mission and the fact that its divisions are treated like startups, allowing them to take initiative and make a difference. ESADE MBAs have been hired as product managers, media sales managers, and business development leaders. Says Nethersole: "The idea of working hard, having fun, and making history is an exciting proposition for our students."
At Columbia Business School, students consider Amazon the "go-to retail/tech firm," says Regina Resnick, associate dean and managing director of the Career Management Center. The school's relationship with the company, she adds, heated up a few years ago, when Amazon started participating in on-campus recruiting. This winter, students visited Amazon's headquarters in Seattle during a West Coast trip. And the company hired nine CBS students in 2012, compared to seven in 2011.
"I advised [Amazon] to get a larger room on campus because their events are so well-attended," says Resnick. "When Amazon executives come to campus, students show up and they listen."
Join the discussion on the Bloomberg Businessweek Business School Forum, visit us on Facebook, and follow @BWbschools on Twitter.
Before it's here, it's on the Bloomberg Terminal.
LEARN MORE