Why Startups See Big Money in Small Business Marketing
by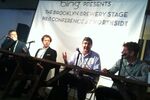 Small business marketing used to be simple. You could buy some space in the Yellow Pages, take out an ad in the local newspaper, and call it a day. The Internet has spawned innumerable new ways to reach customers, from search engines to social networks and business listings boards. But most small business owners don't have time to understand which methods are best for them—let alone fine-tune strategies or even keep information updated across platforms.
At least that's the pitch from startups trying to sell marketing services to Main Street small businesses. That problem—call it too much of a mediocre thing—has attracted countless startups. It's a potential $40 billion market, according to Trevor Sumner, founder of LocalVox, a New York-based company that's jockeying for a piece of the pie.
"Should small businesses be on Facebook?" asked Sumner at a panel discussion on the intersection between small businesses and startups at the Northside Festival in Brooklyn today. Yes—also Twitter, Yelp, Citysearch, Google, and any number of other places where customers can find your business. "But how are they supposed to manage it? [Small and midsize businesses] want someone to tell them, you're everywhere online and it's all taken care of."
Two other takeaways from the panel, which also featured Yodle Chief Executive Officer Court Cunningham and Pontiflex CEO Zephrin Lasker:
• Better is good enough. Yodle, which offers small businesses a menu of marketing services, signs up about 1,000 new customers a month, according to Cunningham. About 25 percent of those businesses don't even have websites, and about 90 percent have websites that aren't mobile-friendly. LocalVox's Sumner says that the majority of local businesses don't put their telephone number on their website. Even simple steps—like making sure your website provides at least as much information as your phone book listing—can get results.
• The adage goes that advertising is sold, not bought. Companies like LocalVox need salespeople, and to make those hires pay off, they need to make big sales (a bit of a paradox, since small businesses' marketing budgets are … small). Sumner says many marketing companies see $300 to $400 a month as a sweet spot, which means they have to figure out how to deliver enough value to warrant the price. That's one reason that companies like LocalVox and Yodle offer an array of marketing services.
Before it's here, it's on the Bloomberg Terminal.
LEARN MORE