business
Walmart's Promises? It's Complicated
By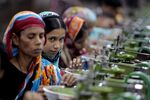 Wal-Mart Stores has been making some big promises lately. In April, Rana Plaza collapsed in Bangladesh, killing more than 1,100 garment workers. Walmart, which has much of its apparel made in Bangladesh, didn't sign a global safety accord developed afterward. But last month the company released a list (PDF) of about 200 Bangladeshi factories it said it had banned from producing Walmart merchandise because they didn't meet the company's safety standards.
Also in April, the company announced it had begun a pilot program to give U.S. employees "transparent and consistent information on available shifts throughout the store and give them the opportunity to request to work any of those shifts." This came several months after OUR Walmart, a group of employees who are backed by a union, held protests on Black Friday asking for more hours and more pay. (Walmart didn't mention the group in the announcement.)
Now, though, the situation on both fronts looks a bit more complicated. ProPublica reported on Wednesday that Walmart has continued to receive massive shipments of sports bras and girls' dresses from at least two banned factories. One of them, Mars Apparels, has been prohibited from working with Walmart since 2011, according to its list. Company spokesman Kevin Gardner told ProPublica that there was confusion over whether Walmart's standards applied to the factory. Mars produced garments with Fruit of the Loom labels destined for Walmart. That wasn't the only confusing aspect: The son of the factory's founder said Mars had never had a problem with Walmart and that he had never heard of its list of banned factories.
Walmart said it accepted shipments from the second factory, which was banned in April, because the orders had already been placed and Walmart wanted to lessen the impact on workers. In an e-mail statement to Bloomberg Businessweek, Gardner added that Walmart "has taken a number of actions that meet or exceed other factory safety proposals," including "in-depth safety audits and remediations to every factory directly producing product for us in Bangladesh, reflected in the cost of the goods that we buy."
Then there's labor conditions in the U.S. Reuters reported on Thursday that Walmart's new policies include hiring more temporary workers than ever before. According to the company, less than 10 percent of its U.S. workforce is temporary–but it used to be no more than 2 percent. A store manager in Alaska, who did not want to be identified, said hiring temps is "a company direction at this time." Mary Pat Tifft, a member of OUR Walmart, said: "Long-term associates are particularly distraught by this short-term hiring as many are looking for more hours and full-time work."
In an interview with Bloomberg Businessweek, David Tovar, a company spokesman, says while existing employees asked for more hours and got them, additional hours are still available; that's where the temps come in. He says the temps have flexible (ie, unpredictable) schedules, while other part-time and full-time staff now have more consistent schedules, as they've asked for. "We heard that associates didn't like schedules changing so much," he says. "This a direct result of the commitments we've made to provide associates with more hours, more predictability, more career options."
Before it's here, it's on the Bloomberg Terminal.
LEARN MORE