business
Trucking Recruiters Shift Into High Gear
By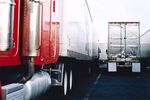 This may be the summer to hang it all up, lay in some beef jerky, and hit the open road. A shortage of truck drivers in the U.S. is expected to worsen when new federal regulations drastically reduce the time drivers can be on the road.
On July 1, truckers will have to pull over after 70 hours of driving a week, vs. the 82 hours they can log today. They will be able to "reset" a weeklong work period, but not before getting 34 consecutive hours of rest spanning two nights.
The rules will be a major "productivity ding" for the industry, according to Sean McNally, spokesman for the American Trucking Associations, a trade group that represents some 30,000 outfits. "We're just going to have to put more trucks on the road in general."
The measures will likely add to expenses at a host of companies such as FedEx and United Parcel Service, but will be particularly hard on long-haul specialists like Swift Transportation, Schneider National, and Werner Enterprises. J.B. Hunt Transport Services, which has 11,000 drivers crisscrossing the country, has told investors to expect "some negative impact on productivity."
Long-haul routes are harder on drivers, because they stray so far from home and any sort of fixed schedule, according to McNally.
The industry is already short 25,000 truckers, according to ATA, and the demand for getting goods and materials from point A to point B has increased in step with the economy at large. Slightly more than half of those in the trucking business expect demand to increase in the next six months, according to a recent survey by Bloomberg.
The burgeoning economy is also providing truckers better job opportunities elsewhere. Turnover among long-haul drivers was almost 100 percent last year, its highest rate since 2007, according to ATA. The renaissance of homebuilding, in particular, has hurt recruiting and retention.
The threat to margins is so great, in fact, the industry sued to head off the coming rules, though it is looking increasingly unlikely that there will be a ruling in the case before the July 1 deadline.
In the meantime, trucking companies are trying to sweeten incentives for employees. Swift, which has about 13,500 drivers, offered its best drivers bonuses of up to six cents per mile last summer, a policy that pushed its first-quarter salary expenses up 3.2 percent. J.B. Hunt, meanwhile, spent 5.5 percent more on workers in the first quarter.
As a share of revenue, however, those raises weren't noticeable. Transportation executives may be masters of managing a supply chain, but they have proved pretty terrible at taking care of a human resources pipeline. Last year, the median wage for the country's 1.6 million truck drivers was $38,200, on average. That's not terrible—better than the overall average wage, in fact—but if it were higher, trucking firms wouldn't be so strapped for employees or rattled by the coming rules.
Before it's here, it's on the Bloomberg Terminal.
LEARN MORE