Ford Fusion Is Denting Detroit While Chasing Camry
by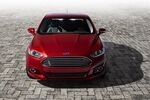 The Ford Fusion is stepping out: It has firmly become the fourth best-selling mid-sized sedan in America. Suddenly, it's not ridiculous to wonder whether  it could catch Honda's Accord, maybe even kill the Camry.
But while Fusions are setting records and Toyota's Camry sales in North America are down 6 percent this year, through May, Ford's standout sedan is doing far more damage in Michigan than in Japan. In particular, the Chevrolet Malibu, once cast as a paragon of post-bailout Detroit, is suffering. U.S. buyers snapped up 137,000 Fusions in the first five months of the year, an 18 percent increase over the year-earlier period, according to Edmunds.com data, while Chevy sold only 90,000 Malibus, for a 23 percent decline. Sales of the Chrysler 200, meanwhile, increased slightly but still totaled less than half Fusion's traffic.
Both companies are squeezing margins to keep up with their cross-town rival: Chrysler is offering about $4,100 in incentives for its 200 model this year; Malibu buyers got about $3,400 in savings. In comparison, Ford conceded a slim $2,100 in incentives on the Fusion.
There are basically two types of buyers in the vanilla-car market: those loyal to Honda or Toyota and those willing to take a flier on something else. For the latter, which is a fast-growing category, the Fusion has become compelling. It's quiet, sporty, and has two important data points—a starting sticker price in line with its competition and a miles-per-gallon rating in the mid-30s to high-40s, depending on engine choice.
In January, Pulitzer Prize-winning auto writer Dan Neil called Fusion the best car in the segment. His exact words: "best-looking, best-screwed together, most likely to appeal to grown-ups." Neil continued: "Heavy industry rarely comes with quite so much lyricism and shrewd aesthetic judgement." That's a Fusion he's talking about, not a Tesla.
Meanwhile, the Japanese brands probably aren't sweating. Toyota's Camry is slipping in part because it is due for a remodel, which is expected for 2015. Honda's engineers just finished rolling out a reworked Accord that has plenty of traction with buyers. It posted a 19 percent gain in U.S. sales on the model, according to Edmunds.com. And Honda hardly had to sway buyers, offering less than $600 per vehicle. Detroit might have muscle, but that's power.
Before it's here, it's on the Bloomberg Terminal.
LEARN MORE