Darrell Issa's Surprising Compromise to Fix the Post Office
By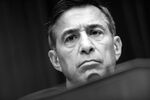 Postal worker unions and their mostly Democratic allies in Congress sometimes portray Darrell Issa as a malevolent figure bent on destroying the U.S. Postal Service. They point to what they considered a highly partisan bill that the Republican representative from California introduced in 2011, which would have treated the money-losing USPS as if it were bankrupt and created a commission to shutter postal facilities. The Issa bill received some good press, including a favorable nod from the Washington Post's editorial page. Still, much to the relief of Issa's foes, the bill went nowhere.
On Thursday, Issa made it harder for his critics to caricature him. He released a draft version of a new postal reform bill. It has some of the same elements in his earlier one—but the chairman of the House Oversight and Government Reform Committee, which has jurisdiction over the USPS, has softened his positions on others. If he's bent on anything this time, it seems to be striking a bipartisan deal.
He's abandoned his plan to create a board modeled after the Defense Base Realignment and Closure Commission (BRAC) to shrink the postal service's physical infrastructure. Senior oversight committee aides say this is no longer necessary because U.S. Postmaster General Patrick Donahoe is moving ahead with his own plan to close as many as 200 mail-processing centers around the country and reduce hours of operation at money-losing post offices.
More important, Issa's proposal would also do away with the fixed annual $5.5 billion payment that USPS is required to make to pre-fund its future retiree health-care costs. The unions and their congressional allies have long called for the same.
Instead, the draft would move the USPS to a system where it could cover these costs according to calculations of what it will actually owe. This could reduce the postal service's annual expenses for present and future retiree health benefit payments from $8.5 billion to somewhere between $2 billion and $5 billion.
Issa is still intent on ending Saturday letter (but not package) delivery. His draft proposal would also do away with the USPS's no-layoffs policy. These are things the unions fiercely oppose. Still, he's made significant concessions. The question now is whether the unions and their political allies will do the same. It's likely the only way the postal service will ever be fixed.
Before it's here, it's on the Bloomberg Terminal.
LEARN MORE