Best Buy Likes the Allure of Smaller-Box Retail
by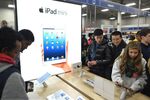 Best Buy is fast becoming a big-box store full of little boxes, announcing a plan yesterday to cordon off its outlets further into dedicated areas for Microsoft products.
Microsoft's Windows-based PC, tablets, and Xboxes will be clustered together in 600 Best Buy stores in the U.S. and Canada, which will be staffed with 1,200 salespeople trained specifically to sell them. Best Buy already has similar retail pockets for Apple and Google, and the announcement comes as it finishes 1,400 "mini-stores" for Samsung.
"It provides clarity to people walking into the store," Best Buy spokesman Jeff Haydock says. Analysts also expect the increased levels of service and glossier presentation will help combat "showrooming," the phenomenon in which consumers go to Best Buy or other retailers to check out products before ultimately ordering from an online vendor.
"It's the iOS experience, it's the Android experience, and we want a shopping environment that really shows what we think is the Windows experience," Chris Capossela, Microsoft's chief marketing officer, said in an interview with Bloomberg News.
Of course, the mini-store strategy has been around long before big retailers felt pressure from online competitors and extends far beyond the mass-market electronics made by Best Buy's partners. Department stores, in particular, have cordoned off smaller, brand-focused spaces within their sprawling locations. Bloomingdale's New York City flagship store is basically a collection of branded boutiques, and separated stacks of Lands End apparel at Sears have been a rare bright spot for the struggling retailer.
Introducing smaller boutiques inside big stores hasn't proven effective across the board. Ron Johnson, the mastermind behind Apple's retail strategy, saw his short tenure as chief executive of J.C. Penney, marked by an aggressive push into revamped mini-stores, turn into a disaster (although problems at the the company were likely driven even more by his decision to end J.C. Penney's heavy use of coupons and discounts).
The difference—for Best Buy, at least—is that there's clear appeal for gadget makers eager for their wares to stand out inside high-traffic stores. For one, the separate sales areas with dedicated sales staff make it easier to showcase product differences other than the price tag, which shoppers are apt to notice first in a undifferentiated shelf of, say, laptops or smartphones. For a company such as Microsoft—which has just 70 of its own stores, almost half of which are pop-up shops or small mall outlets—a Best Buy partnership is a way to push into storefront sales without expensive real-estate investments.
Best Buy CEO Hubert Joly told investors in a conference call last month that mini-store partners see the dedicated spaces within big-box stores as chances to showcase "billions of dollars in R&D" in a way they can't online. And for Best Buy, he said," it's a chance to "reduce space allocated to the negative-growth and low-margin CD and DVD categories and replace it with higher-growth, higher-margin categories."
Before it's here, it's on the Bloomberg Terminal.
LEARN MORE