business
Airbus A350 Takes to the Air in First Test
By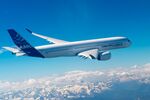 The first flight for the Airbus A350, the plane maker's answer to Boeing's 787 Dreamliner, has occurred today in France. The flight was a milestone in the sense that Airbus was working to have the plane airborne ahead of the Paris Air Show, which will open on June 17. The plane—designated MSN1—is expected to receive a year or more of flight testing and engineering modifications ahead of its regulatory certification and delivery to the first customer, Qatar Airways, in the second half of 2014.
The A350, like its rival predecessor, Boeing's 787, promises airlines an efficiency boost via an abundance of carbon fiber composites used in construction. Not only are these newer materials lighter, thereby cutting fuel burn, they resist the corrosive effects common to traditional metal airframes, thus requiring less maintenance.
Before it's here, it's on the Bloomberg Terminal.
LEARN MORE