business
A Virgin Play for the Rental-Car Market
By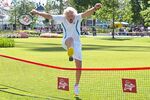 What do you get when you mix Richard Branson, a virgin, and a rental car? The result probably wouldn't look much like the current Advantage Rent a Car, an industry budget player known for attractive prices and cars that aren't always among the newest on the road.
Branson's Virgin Group, known for cheeky marketing and stylish services, has expressed interest in Advantage to U.S. regulators mulling whether to permit the $2.3 billion purchase of Dollar Thrifty Automotive by rival Hertz Global, Bloomberg News reported on Friday. In November, the U.S. Federal Trade Commission told Hertz to sell Advantage and 23 Dollar Thrifty airport locations in the U.S. in order to create an additional competitor in the industry, but the FTC hasn't yet decided whether the new owner, Franchise Services of North America, seems viable.
The U.S. car-rental industry is dominated by Enterprise, Hertz, Avis Budget, and Dollar Thrifty. Advantage operates at about 75 U.S. airports, with a fleet of 23,000 cars, and regulators would like to see the company become a robust player to help curb prices. Tom McDonnell, chief executive officer of FSNA, which is based in Ridgeland, Miss., didn't immediately return a call seeking comment. "Virgin looks at opportunities where we believe our brand and service can make a difference for the customer and shake up a market," Virgin spokesman Nick Fox said in an e-mail. "We feel the car rental sector is Virgin territory."
Since the Hertz-Dollar Thrifty deal was announced in August 2012, the three major rental companies have boosted prices aggressively, with a half-dozen price hikes by Avis alone in the first quarter, Bloomberg News reported. In April, Hertz CEO Mark Frissora told analysts that "industry conditions continue to be ripe for good prices and good price increases."
Those increases have likely given FTC officials pause about whether to approve the deal—potentially cementing higher rental costs for millions of travelers. They allow Virgin an opening to argue that its resources and existing presence in the travel industry make it a formidable operator for the car-rental chain. Virgin Group owns Virgin Atlantic Airways, which operates a hub at London's Heathrow Airport, and has a stake in Virgin America. It also has ventures in hotels, banking, space travel, and mobile-phone service.
If Virgin does win Advantage, what changes might occur? It would almost certainly seek to extend the Virgin brand to its car-hire business, rebranding the car rental venture as a hipper alternative to the incumbents.
Before it's here, it's on the Bloomberg Terminal.
LEARN MORE