A Private Search Engine's Prism Boost Isn't Quite Its Breakout Moment
by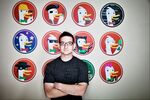 The exposure of the U.S. government's Prism spying program has been a boon for DuckDuckGo, which VentureBeat describes as "the foremost search engine for those concerned about not just snooping by the government but Google as well." The service, launched in 2008, is seeing record traffic. It fielded 2.54 million searches on Thursday, up 33 percent from a week earlier, when the Prism story broke.
To put this in perspective, though, here are the daily average number of searches for some other search engines last month, according to ComScore:
• Google: 431 million
• Bing: 113 million
• Yahoo!: 77 million
These aren't exact numbers; I've rounded them to the nearest million. Which is to say that DuckDuckGo's big week would be a rounding error for the major search engines. Google, Microsoft, and Yahoo combine for 96 percent of the U.S. search market. All three companies have been named as participants in Prism.
It's worth remembering that privacy concerns didn't suddenly arise with Prism. These companies and other online behemoths have taken fire for years for their privacy policies. DuckDuckGo's own description of the need for a private search engine doesn't mention the government. Instead, it explains how someone could end up outing himself by searching for herpes medicine on Google. (Potentially embarrassing medical information is what data miners value over everything.) Other Web services that make privacy a priority have excited advocates over the years, but none has approached mainstream adoption—Diaspora has never posed a serious threat to Facebook.
So you'd be right to read DuckDuckGo's traffic numbers as a sign that people are becoming more concerned about their privacy. We've had plenty of time to get worried about how our personal data are being used, though, and there has yet to be a privacy violation awful enough to get most people to do something about it.
Before it's here, it's on the Bloomberg Terminal.
LEARN MORE