Thumbtack: A Local Services Hub to Rival Angie's List?
Thumbtack tries to crack local services with algorithms
By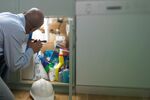 Companies from Angie's List to Yelp to HomeAdvisor have tried over the past decade to crack the U.S. market for plumbing, gardening, and other local services by developing an online database for homeowners looking for reliable referrals. There have been limited successes but no breakout leader, partly because many of the nation's tens of millions of local small business owners spend relatively little time on the Web and run their businesses the old-fashioned way, with a pen and pocket calendar.