business
The Truth About MBA Applications
Louis Lavelle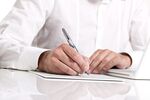 For some time now, it's been pretty clear the MBA application process is compromised. Students plagiarize their admissions essays, buy essays from successful applicants, or pay others to write them. It's gotten bad enough that top schools, including Harvard Business School, have begun reducing the number of essays they require or, in one case, requiring applicants to answer surprise questions on video.
New research suggests the situation may be even worse than we think. A survey (PDF) of more than 350 business school applicants by a group that represents MBA admissions consultants found that 57 percent used consultants during the admissions process—far more than previous studies have found. And 38 percent were asked to write their own letters of recommendation, with some groups—including international applicants and those in finance—reporting far higher numbers.
To put this in context, previous studies by business schools themselves have put the number of applicants using consultants far lower. According to Poets & Quants, a B-schools website, Duke University's Fuqua School of Business in 2011-12 asked its applicants if they used the services of a consultant: Fewer than 10 percent said yes. A 2009 survey of students enrolled at the Stanford Graduate School of Business found that about 15 percent used consultants.
A couple of things to consider: First, the 57 percent figure in the study by the Association of International Graduate Admissions Consultants may overstate the extent of consultant usage by applicants. AIGAC President Anna Ivey says the survey was distributed to the group's clients, as well as to non-clients via social media and online communities of applicants. The Duke study, if applicants feared being penalized for use of a consultant, may be understating the extent of consultant usage.
Even accounting for those possibilities, the two estimates are far apart. And what about those letters of recommendation? Some top business schools, such as Stanford, expressly forbid applicants from writing their own letters, even if asked to do so by their recommenders—but many schools don't.
The AIGAC survey included some interesting findings. Among them: Men were more likely to be asked to write their own recommendations than women (43 percent vs. 27 percent), international applicants were more likely to be asked than those in the U.S. (49 percent vs. 26 percent), and applicants working in finance or accounting were more likely to be asked than those in consulting or technology (50 percent vs. 37 percent vs. 28 percent).
It's worth noting that the AIGAC survey asked if applicants were asked to write their own letters of recommendation—not whether they actually did. Still, with the perfect recommenders in short supply for most MBA applicants, it's hard to imagine one walking away from a recommender who wanted the applicant to do the writing.
Join the discussion on the Bloomberg Businessweek Business School Forum, visit us on Facebook, and follow @BWbschools on Twitter.
Before it's here, it's on the Bloomberg Terminal.
LEARN MORE